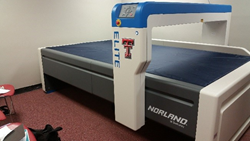 The ELITE DXA Installation at Texas Tech University
"We chose the Norland ELITE DXA because of its scan size. We are not limited in height or width to produce accurate readings for our athletes."
FORT AKINSON, Wis. December 07, 2017
Texas Tech University recently invested in technology that will impact all 17 intercollegiate sports. This technology will improve sports performance and reduce the risk of injury. The Sports Medicine and Sports Nutrition Departments invested in the ELITE DXA from Norland which will result in a multidisciplinary approach to monitoring athlete's body composition and bone health. The goal being to improve performance reduce risk of injury and monitor overall health of the student athletes.
Dayna McCutchin, Director of Sports Nutrition at Texas Tech University, stated, "We chose the Norland ELITE DXA because of its scan size. We are not limited in height or width to produce accurate readings for our athletes." Limitations of all other DXA devices prevent athletic departments like Texas Tech University from completing whole body, body composition scanning on their tallest and widest athletes. Any partial scans will impact precision and accuracy. In the elite athletic community of college sports accuracy and precision cannot be sacrificed. Ms. McCutchin further stated, "We also like that the ELITE DXA is the latest technology which produces the lowest radiation amounts of any other machine currently on the market." This results in less radiation exposure to both the athlete and operator.
The Sports Nutrition and Sports Medicine Departments will work together to monitor body composition and lean mass of athletes. According to Ms. McCutchin, "We intend to use the DXA for whole body scans to produce an accurate form of body fat and lean body mass testing. We also plan to use the device to screen for at risk athletes who may have low bone density per MD recommendations." This team approach to student athlete health and wellness ensures that Texas Tech Athletics prioritizes the wellbeing of its athletes.
Powered by WPeMatico