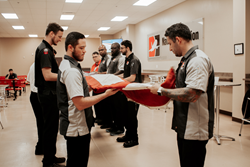 Veteran students fold the American flag on Veteran's Day 2017 at NAA's Tampa Bay campus
NAA prides itself on creating an environment where Veterans can invest in themselves and their families through post-military training.
CLEARWATER, Fla. January 14, 2018
National Aviation Academy (NAA) announced today that it has earned the 2018 Military Friendly® Schools designation by Victory Media, publisher of G.I. Jobs® and Military Friendly® ratings.
NAA's courses in Aviation Maintenance and Advanced Aircraft Systems have been designed so that individuals may gain an in-depth education, preparing them for work in the aviation maintenance industry. Veterans are able to build on the valuable skills that they already possess and apply them to a career field in which 648,000 new aviation maintenance technicians will be needed over the next 20 years.* NAA's commitment to Veterans has been endorsed by the Military Friendly® Schools designation.
With a mission of making life better for Veterans and their spouses by setting the standard for higher education institutions to provide positive opportunities, Victory Media has released the 2018 Military Friendly® Schools list. Now in its 16th year, the Military Friendly® Schools list provides a comprehensive guide for Veterans and their families using data sources from federal agencies, Veteran students and proprietary survey information from participating organizations.
Institutions earning the Military Friendly® School designation were evaluated using both public data sources and responses from a proprietary survey completed by the school. For the first time, student survey data was taken into consideration for the designation. More than 1,300 schools participated in the 2017-2018 survey with 849 earning the designation.
Daniel Nichols, Victory Media's Chief Product Officer, stated, "Our ability to apply a clear, consistent standard to colleges creates a competitive atmosphere that encourages colleges to invest in programs to provide educational outcomes that are better for Veterans."
Methodology, criteria, and weightings were determined by Victory Media with input from the Military Friendly® Advisory Council of independent leaders in the higher education and military recruitment community. Final ratings were determined by combining the institution's survey scores with the assessment of the institution's ability to meet thresholds for student retention, graduation, job placement, loan repayment, persistence (degree advancement or transfer) and loan default rates for all students and, specifically, for student Veterans.
David Mead, Senior Executive Vice President of Operations and Education, stated, "NAA prides itself on creating an environment where Veterans can invest in themselves and their families through post-military training. Military Friendly® is the standard that measures an organization's commitment, effort and success in creating sustainable and meaningful benefit for the military community. For this reason, and many more, we are proud to be Military Friendly®."
*According to Boeing's 2017-2036 Pilot & Technician Outlook.
About NAA: Dedicated to building a quality aviation maintenance workforce, National Aviation Academy (NAA) offers training in Aviation Maintenance and Advanced Aircraft Systems. A worldwide reputation has been cultivated through the use of innovative curriculum, hands-on training and a forward-thinking sensibility. Companies that hire NAA graduates offer long-term and viable careers with great earning and growth potential. NAA trains individuals from across the globe at campuses located in Clearwater, FL and Concord, MA. For more information, call (800) 659-2080 or visit http://naa.edu.
About Military Friendly® Schools: The Military Friendly® Schools list is created each year based on extensive research using public data sources for more than 8,800 schools nationwide, input from student veterans, and responses to the proprietary, data-driven Military Friendly® Schools survey from participating institutions. The survey questions, methodology, criteria and weighting were developed with the assistance of an independent research firm and an advisory council of educators and employers. Data calculations and tabulations were independently evaluated for completeness and accuracy by Ernst & Young. The survey is administered for free and is open to all post-secondary schools that wish to participate. Criteria for consideration can be found at http://www.militaryfriendly.com.
About Victory Media: Founded in 2001, Victory Media is a service-disabled, veteran-owned small business (SDVOSB) that connects the military community to civilian employment, educational and entrepreneurial opportunities through its G.I. Jobs® and Military Friendly® brands. Victory Media and its brands are not a part of or endorsed by the U.S. Department of Defense or any federal government entity. Learn more about Victory Media at http://www.victorymedia.com.
Powered by WPeMatico