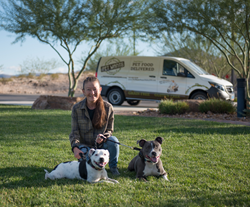 Sandy Allen
Pet Wants is unique and we are excited to be able to offer Pet Wants products to other pet families in our community. This is an exciting journey for us. – Sandy Allen
LAS VEGAS December 05, 2017
Sandy Allen is pleased to announce the launch of her new, local pet food business, Pet Wants Vegas Valley SW.
Pet Wants' specially crafted pet food formulas are made in small batches with fresh, natural ingredients enhanced with vitamins and minerals for a complete and balanced diet in every bowl. Pet Wants Vegas Valley SW offers multiple blends of dog and cat food formulas as well as healing salve, calming balm, anti-itch spray, paw wax and more. Pet Wants is a mobile business that offers free, personal delivery throughout the Las Vegas valley area.
"I've had pet food delivered for years, but Pet Wants is different because that delivery is personal and the food is fresh. Even other high-quality foods can sit on the shelves at the store for months and you never know how old it is by the time it makes it to your pet's bowl. That's what makes Pet Wants different. Our food is made in small batches and delivered to your door in the amount you need, so you'll know it's fresh," Sandy said.
Sandy has a background in accounting and helping her will be her husband, Rob, who is retiring after working in the recycling industry for the past 43 years. Sandy and Rob have supported rescues everywhere they've lived and have had pets for most of their lives. Their family currently includes two dogs – Seven and Gage. Sandy and Rob were sold on bringing Pet Wants to the Las Vegas valley after switching their own dogs to the food. Gage, who has a sensitive stomach, has always been a finicky eater… until Pet Wants. Now he's eager to eat and his stomach is much better. Seven loves the food too.
"I grew up with cats and dogs and, for most of my life, nutrition wasn't a concern. A lot of times we just bought whatever was on sale at the grocery and, as long as the pets ate it, we figured it was OK. Then, a number of years ago, we had a dog diagnosed with three kinds of cancer and the doctor put her on prescription food. However, the prescription food seemed to cause other health issues, so we then switched to another food we thought was high-quality, which seemed to work out pretty well for the seven years she lived with cancers. That was our first exposure to nutritional concerns with our pets and when we saw Pet Wants, it first caught our eye as something great to give our pets and then we began to see it as a business opportunity," Sandy said.
Pet Wants has a 100-percent, money-back guarantee on the freshness and quality of the food and the company only sources the best salmon, chicken, lamb, brown rice and other ingredients available. There's no sugar added, no fillers and no animal by-products and Pet Wants never uses corn, wheat, soy or dyes, which makes the food great for animals with allergies.
"Pet Wants is unique and we are excited to be able to offer Pet Wants products to other pet families in our community. This is an exciting journey for us," Sandy said.
To learn more or to place a delivery order, call (702)624-5248, email SAllen(at)PetWants.com or visit http://www.PetWantsVegasValleySW.com.
About Pet Wants: Pet Wants was started by Michele Hobbs out of love for her pets and frustration. Veterinarians were unable to help relieve her dog's painful skin allergies. After doing much research, Michele discovered the national dog food brand she trusted was not fresh, not all natural, and lacked sufficient nutrition and – when pet food sits in warehouses and store shelves for months and months – it loses even more nutritional value. She was committed to developing a better solution for all dogs and cats. Their food is exclusively crafted. It's fresh, healthy and slow-cooked with no sugar added, no fillers and no animal by-products. They source only the best salmon, chicken, lamb, brown rice, and other ingredients. Fresh ingredients make for better food… and better health for pets. And since they never use corn, wheat, soy or dyes, the common pet health problems associated with these ingredients are no longer worries. Their fresh food is conveniently delivered to the customer within weeks of production, not months. Roughly half of Pet Wants products are sold through their store and half through their convenient, home-delivery program. You can learn more at http://www.PetWants.com.
Powered by WPeMatico