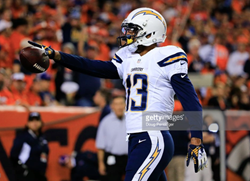 Keenan Allen
Just keep doing it. Stay consistent. Keep getting out there. Attack it, don't fear it and let the play take care of itself.
LOS ANGELES December 06, 2017
Keenan "The Slayer "Allen, NFL wide receiver for the Los Angeles Chargers, made history on Sunday, December 3, 2017. According to the Los Angeles Chargers organization, Allen is the 1st player in the NFL to have 10+ catches, 100+ receiving yards and 1+ TD catch in 3 consecutive games. He has been congratulated and celebrated by the national media and fans for his recent achievements. What makes this accomplishment even more compelling is the fact that Allen suffered a season-ending injury with an ACL tear in his right knee in the first game of the 2016 season. It was devastating to him and his teammates but Allen took this opportunity to get better and to train harder. Through consistent rehabilitation, mental toughness and alternative healing methods he was able to find his Zen. Allen's comeback made him bigger and better, even putting him in the lead for the title: NFL Comeback Player of the Year.
Allen began his historic run in Week 11 of the NFL season against the Bills, with a 12 reception, 159-yard, two-touchdown performance. In the following game, Week 12 against the Cowboys he ran a career high of 172 yards and scored 2 touchdowns. Finally, Week 13 against the Cleveland Browns, Keenan had 10 receptions for 105 yards and a touchdown.
Allen attributes his comeback and recent athletic career success to a variety of things, most importantly, being consistent and staying on the field no matter what "Just keep doing it. Stay consistent. Keep getting out there. Attack it, don't fear it and let the play take care of itself," says Allen when asked how he overcame his injury and how he deals with fear.
This type of mentality taught him to keep his focus on the game and dismiss the fear of injury. He also learned and applied preventative treatments and natural pain relieving remedies that helped him through his recovery and remain a staple in his daily workout. "The product that I used during my 6 ½ month rehab and I use before and after games, is Zen Relief Balm. It works amazing for muscle relaxation, and even better to relieve the pain after games, no product I have used is this effective. I love the product line so much- I also invested in the company. I will continue to spread the word, & let all my fellow teammates know how wonderful Zen is. All I can say is… find your Zen!" Says Allen.https://youtu.be/DCrQ1rUZmd0
"We would like to congratulate Keenan on his history-making performances on the football field. We are proud and honored to have Keenan as a member of the Zen family! You are a great model of courage and an example of what can be when you find your Zen," says MLB legend and CEO of Zen Enterprises, LLC Dave Stewart. Injuries can, and often do, halt careers. But not this time… not for Keenan Allen. Currently, Keenan is having an amazing season and had his best record game on Thanksgiving Thursday against the Cowboys. He played two games in five days and was able to emerge healthy, feeling better than ever after the best back-to-back performances of his NFL career.
About Keenan Allen
Keenan Allen is an American football wide receiver for the Los Angeles Chargers of the National Football League (NFL). He played college football for the California Golden Bears before leaving after his junior year. He was drafted by the Chargers in the third round of the 2013 NFL Draft. Allen won multiple rookie honors after setting Chargers' records for receptions and receiving yards by a rookie.
About Zen Relief Balm
Zen Relief Balm has a wide variety of health benefits that do not contain harmful chemicals and will not cause long-term side effects nor harm to your body. Zen Relief Balm, the all-natural, targeted pain relief formula loaded with 15 of nature's finest essential oils, is the leading producer of its kind on the market today. It's ability to instantly heal a number of aches – menstrual cramps, sprains, sore feet, arthritis, joint tension, back pain, strains, migraines, fibromyalgia, and more – is possible thanks to its patented formula and ingredient composition. Blocking the enzymes that cause discomfort via a direct application, it immediately gets to the source of all aches and pains. Any condition that causes discomfort or pain can be alleviated with the application of our Zen Brand Products. Zen invigorates the human body, reduces pain, & encourages a natural state of wellness, helping the world find their Zen. Available in retailers across the country including all Rite Aids, Shaw's, Meijer's, Acme, Terrible Herbst, Super Valu, ShopnSave, and Amazon.com.
For interviews with Keenan Allen and more information about Zen All Natural Pain Relief contact Erica Hill at Erica(at)Zenreliefbalm(dot)com
Powered by WPeMatico