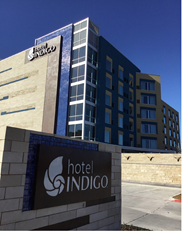 Our mission was to create a once in a lifetime experience for all of our guests.
FRISCO, Texas November 29, 2017
Frisco's first boutique hotel, the Hotel INDIGO Frisco, opened for business on November 21, 2017. The upscale, luxury property is the first of its kind for Frisco, and will greatly enhance the travel experience for leisure and business travelers alike.
True to the Hotel INDIGO brand where no two properties are alike and each tells the story of its community, the Hotel INDIGO Frisco has woven in Frisco's unique history, making it a one-of-a-kind hotel. The city's interesting roots from soil, farmland, innovative pioneers and railroad inspired the design and architecture of the hotel. Upon entering Hotel INDIGO Frisco, senses are engaged from floor to ceiling with time-period-inspired décor, flooring, furniture and light fixtures with distinctive textures.
MDM F T, LLC. recently purchased the new Hotel INDIGO Frisco, which was built by local developer Dabu Hotels, LLC. The hotel will engage guests to enjoy the local experience. In the heart of Sports City USA, it is nestled along a beautiful walking, running and biking trail providing exercise and respite near the area's creek, waterfall and pond. The hotel's surroundings also encompass one of the famous Frisco bridges.
"In bringing this boutique hotel to Frisco, our mission was to create a once in a lifetime experience for all of our guests. We celebrate the stories, people and neighborhood that makes us who we are. We truly feel that our hotel guests are part of our neighborhood and contribute to our story and our community," said Brian Harris, General Manager, Hotel INDIGO Frisco.
MDM F T, LLC. has selected KPartners Hotel Management as Hotel INDIGO Frisco's management company. KPartners is innately familiar with the INDIGO brand and in addition, manages several IHG properties in Texas, Colorado and California.
"This project has been an exciting one for our company, and as with all of our development projects, we are personally involved in every phase of development, design and construction," said Asif Momin, Partner, MDM F T, LLC. "It was important to us to partner with a management company who not only has an incredible reputation in our industry for the performance of their hotels, but also one that has vast knowledge of the Hotel INDIGO brand. KPartners was our natural management choice as they operate several of our hotel properties."
"The inclusion of the Hotel INDIGO Frisco is a wonderful tribute to the generations who contributed to the history and heritage of Frisco," said Jeremy Day, Vice President of Hotel & Golf Operations, KPartners Hotel Management. "We are grateful to be included with the other Hotel INDIGO's across our brand that similarly represent and respect America's history while dynamically meeting the needs of today's explorative travelers and local communities."
Hotel INDIGO Frisco Highlights:
The hotel sits on Avenue of the Stars along Gaylord Parkway, just across the street from the Frisco Convention Center, Dr. Pepper Arena (home of the Dallas Stars and Texas Legends), Frisco Rough Riders; less than a mile from Stonebriar Mall; and just over a mile from the Ford Star Center.
PARLOUR Social Lounge is a full-service restaurant and bar infused with local flavor combining rich heritage and upscale ambiance that takes palates on a delectable journey with locally sourced ingredients.
The hotel lobby showcases décor, murals and other artwork that combine the area's rich history with today's modern times.
All 110 rooms pay homage to the local Frisco heritage boasting beautiful murals of cotton, railroad tracks, Texas wildflowers and the steam locomotive.
Two meeting rooms offer a combined 1,086 sq. ft.
Convenient access from 121 and Dallas tollway
Outdoor Pool
Onsite, walk up parking
Fitness Facility
Pet Friendly
About Hotel INDIGO
The Hotel Indigo® brand is a global boutique hotel brand that delivers a refreshing and inviting guest experience that is truly reflective of the local community. From the locally inspired murals to the renewal program where the music, scent, and menu items change throughout the year, each Hotel Indigo hotel delivers a vibrant, engaging and genuine boutique experience that gives guests the confidence to step out and explore the local neighborhood. Each Hotel Indigo property is unique and designed to reflect the local culture, character and geography of the surrounding area while brand hallmarks ensure consistent and reliable service from location to location. No two hotels are the same. There are 64 Hotel Indigo hotels open around the globe, with a quality global pipeline of 61 hotels set to open within the next three to five years. For more information or to make a reservation, visit http://www.hotelindigo.com.
Powered by WPeMatico