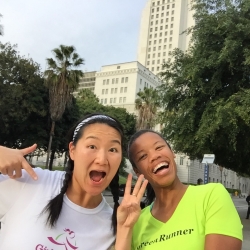 Los Angeles, CA, January 13, 2018 — The only running-interview preview of the 26.2 mile LA Marathon course, Marathon Recon is back for a 2018 edition. Saturday, January 13th through Thursday, March 15th, the Run Faster Coach, Martise Moore, hosts "Marathon Recon," a mile by mile preview of the 2018 LA Marathon. The live stream interview series features LA Marathon runners and fundracers sharing their stories while running a mile of the official course. The goal: To inspire people to run and support local charities.
"It is such an honor to celebrate people's running growth journeys and spotlight so many world-altering charities," Moore said.
Guests include runners for:
· Angel City Pit Bulls
· Boys & Girls Clubs of Venice
· Celiac Disease Foundation
· Cure CMD
· Institute for Myeloma & Bone Cancer Research
· Playworks
· Reading to Kids
· Running for Rare
· Special Olympics Southern California
· Strength United
· Students Run LA
"It takes a lot to train for and finish a marathon," said Moore. "Watch Marathon Recon for the tips and inspiration you need to keep running."
Runners interested in learning more about the 2018 LA Marathon course and the charity participants can get the details about Moore's live stream running-interview series, "Marathon Recon," at GreenRunnerLA.com.
About the Run Faster Coach
Martise Moore, the Run Faster Coach, is the founder of GreenRunner, the run faster coaching company. She helps athletes, weekend warriors, and military and law-enforcement candidates run faster for sports, road races, and physical fitness tests.
Powered by WPeMatico