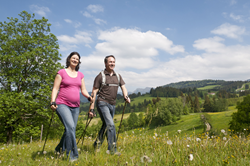 Now is the perfect time for women of all ages to make a commitment to stop smoking …
SANTA ROSA, Calif. December 24, 2017
Smoking is a bad habit for anyone and for women it poses very specific problems, particularly for pregnant women and women who are considering pregnancy. "Now is the perfect time for women of all ages to make a commitment to stop smoking," says Dr. Lela Emad Obstetrician & Gynecologist. "In light of the latest research, we're asking all of our patients who smoke or use nicotine products, to make the commitment to change this one lifestyle habit, and start the New Year on a better track toward health."
The Study
Experts at St George's University of London set out to understand the underlying mechanism that seems to be exercise's way of supporting the body against nicotine dependence and withdrawal. The study revealed that even moderate exercise noticeably reduces the severity of nicotine withdrawal symptoms. The findings help to validate the protective effect of exercise during smoking cessation; against the development of physical dependence, which may help smokers in giving up the habit by reducing the severity of withdrawal symptoms.
The Impact of Smoking
According to the Center of Disease Control and Prevention cigarette smoking remains the leading cause of preventable death and disability in the United States, despite a significant decline in the number of people who smoke. More than 16 million Americans have at least one disease caused by smoking
"If exercise works to decrease the symptoms associated with nicotine withdrawal, then taking up an exercise routine and quitting the habit go hand in hand," Dr. Emad says. "Statistics show that only 30 percent of women quit smoking when they find out they are pregnant, if we could make a dent in that number, it will have a positive impact on the well-being of both mothers and their children."
Cigarette smoking alone kills more than 480,000 Americans each year. It causes direct damage to the body, which can lead to long-term health problems. We've all heard that smoking causes cancer, lung and heart disease, and stroke, but smoking also causes specific problems for women's health including:
Decreased bone density
Rheumatoid arthritis
Cataracts
Gum disease
Ulcers
Depression
Menstrual problems
Pregnancy Issues (Low birth-weight)
Delivery Problems (Pre-term delivery)
In addition to lowering the effects of nicotine withdrawal, exercise is by far the best thing women can do to improve health. Exercise has been found to increase a person's overall energy level and it releases endorphins—which in turn increases a person's happiness quotient. Ongoing research suggests that as little as 2.5 hours weekly (about 20 minutes a day) of moderate aerobic exercise such as walking provides all the major health benefits a body needs to stay healthy.
"What a great resolution for women of all ages to make for this New Year; stop smoking, start exercising," Dr. Emad said.
About Women's OBGYN Medical Group
The provider team of expert OB/GYN physicians, certified nurse midwives, family nurse practitioners, and medical assistants provides unmatched care to patients in our region. As women proudly serving women, we understand the needs and expectations of our patients. For more information call (707) 579-1102 or visit the Women's OB/GYN website.
Powered by WPeMatico