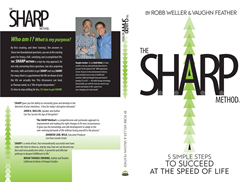 "No one knows more about persistence, resilience and staying SHARP than Robb Weller ." – Leeza Gibbons, TV Host
LOS ANGELES December 30, 2017
The SHARP Method – 5 Simple Steps to Succeed at the Speed of Life has been launched by television personality and four-time Emmy Award winning Executive Producer Robb Weller, and marketing executive and expert Vaughn Feather.
Written as a concise, practical book about how to succeed "at the Speed of Life," The SHARP Method: 5 Simple Steps to Succeed at the Speed of Life is an original theory developed through current research and over 30 years in the entertainment and marketing industries between the authors. The habit change technology is designed to provide readers with visionary tools and a unique approach to personal development at all stages of life.
Weller, the former host of Entertainment Tonight, and Feather have worked with and trained thousands of employees, television talent, and guests, guiding them to stronger success levels of accomplishment, life goals and overcoming adversities and challenges. The SHARP Method specifically aims at helping people deal with the fast-moving world of disruption, overwhelming information and technology, and to gain more control of their lives, find their purpose, and own the answer to "Who Am I." Their SHARP acronym stands for SEEKING, HABITS, ATTITUDE, RESILIENCE and PURPOSE, but directed in this particular order to maximize the effect.
Even Hollywood and television network executives are getting on the SHARP bandwagon:
"No one knows more about persistence, resilience and staying SHARP than Robb Weller. He has been consistently successful, in his professional and personal life, at finding purpose and meaning. Through years of research on the science of achievement, he and his co-author bring us practical tools for winning." – Leeza Gibbons, TV Host
"What a useful book– fun to read and organized in a very user-friendly, easy-to-remember and employ style. We all need some help navigating this quickly changing environment, and the Sharp Method really gives you the tools you need. I read the book in one sitting and then I read through it again over the next couple of days. I loved that it gives you a small number of things to really concentrate on and to build up your skills in specific areas. I would recommend this to anyone. I have already felt a change in my attitude and confidence. These guys really are sharp!" – Brooke Johnson, former President of the Food Network
Weller and Feather fine-tuned their program through beta testing workshops while compiling research on the book. Through their work and contact with thousands, they realized how many people were looking for greater purpose and deeper connections in their lives. Staying SHARP has never been such a challenge.
Both Weller and Feather have been long-time advocates of personal development since their early days. Weller gives strong writing evidence of early mentoring and embracing positive attitudes, bolstered by resilience from an early childhood accident. Feather profited from the example of hard work and determination his parents displayed in growing a small gymnasium business into one of the worlds most successful marketing companies. Both tell in the book about their devotion to learning, growing and implementing successful strategies.
In Hollywood, writers, producers, directors, and actors are constantly told to 'reinvent' themselves to maintain a competitive edge in an incessantly changing business. The Sharp Method, created by Weller and Feather, serves as an excellent guide to such personal reinvention without losing a sense of one's inner self. In straightforward language, it provides a clear path to reinvigorated creativity, self-improvement, and increased satisfaction from work." – Jeff Melvoin, Emmy-Award Winning Producer, Designated Survivor, ABC Television Network
About the Authors
Robb Weller is the former host of Entertainment Tonight, The HOME Show on ABC, Win, Lose or Draw and for 15 years hosted The Tournament of Roses Parade for HGTV. His production company Weller/Grossman Productions, Inc. produced over 9,000 shows for 35 different networks and was nominated for 11 EMMY Awards win three wins, and countless other accolades. Weller also won a New York EMMY for his efforts at WCBS-TV.
Vaughn Feather cofounded and ran Cambridge Plan International, maker of The Cambridge Diet, the first nutritionally complete milkshake diet. After launching several other successful companies, Feather became a leading consultant for both health and network marketing companies.
Who knew that the right foods in sufficient amounts could do so much good for your body? Now there is the science to prove it.
The SHARP Method 5 Simple Steps to Succeed at the Speed of Life is available in both hardcover and eBook online and Amazon (https://www.amazon.com/SHARP-Method-Simple-Steps-Succeed/dp/0990515656/ref=sr_1_1?ie=UTF8&qid=1514583860&sr=8-1&keywords=the+sharp+method). It is published by Sharp Publishing through Kindle Digital Publishing. Check out a video at https://www.youtube.com/watch?v=tjjt7aJ1ZR8.
The SHARP Method 5 Simple Steps to Succeed at the Speed of Life
Authors, Robb Weller, Vaughn Feather
SHARP Publishing
209 pages ISBN-9780990515654 | Price: $19.95
EBook ISBN-9780990515661 Price: $14.95
Powered by WPeMatico