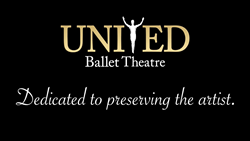 United Ballet Theatre will treat their dancers not only as artists, but athletes as well.
ORLANDO, Fla. November 30, 2017
United Ballet Theatre (UBT) announced today the unveiling of their new professional ballet company based in Orlando, Florida. The company is scheduled to begin performances in the summer of 2018.
Led by Artistic Director Joseph Gatti and Executive Director James L. Boyd III, UBT will operate during the summer when most professional companies are on "lay off" and their dancers are looking for work.
UBT will treat their dancers as athletes by allowing time for maintenance and recovery throughout the workday by providing physical therapy, massage services, and exercise equipment, an unprecedented approach to the professional ballet company cycle.
"The top priority for United Ballet Theatre will be to preserve the dancers to ensure they have long and healthy careers," said Gatti. "We are going to provide time for our dancers, during the normal workday of rehearsing, to work with personal trainers and physical therapists to ensure they are strengthening areas they want to improve upon to ensure their long-term health and maximize their potential as dancers."
UBT will feature 8-10 professional dancers (including Gatti) plus other world-renowned guest artists from across the globe performing classical repertoire and brand new contemporary works.
"I want to provide dancers the opportunity to maintain their income throughout the summer and work with some of the greatest teachers and choreographers from around the world," said Gatti. "We want to set the bar for ballet in Florida and we want our dancers to become role models for students across the state."
UBT also expects ballet fans and audiences to reap the benefits when it comes to how they treat their dancers.
"The structure of UBT will empower our dancers to perform at their absolute best and that will positively impact the quality for our viewing audience," said Gatti. "It's also going to allow the dancers to preserve the passion for their roles so each performance isn't just second nature or 'going through the motions.' As with the professional company cycle, it won't just be about learning choreography and run-throughs after run-throughs."
In addition to Gatti and Boyd, the staff will include:
Professional Ballet Teachers & Coaches: Stanislav Feco, Vadim Fedotov, Irina Depler, Magaly Suarez, Orlando Molina, Lasha Khozashvili. Personal Trainers: Jaime Diaz, Jacquelyn Haas, Heather Southwick (PT, MSPT), Phil Gatti
The company will share studio space with the Russian Ballet School of Orlando and is currently in negotiations to secure a theatre for performances.
To learn more or donate, please visit: http://www.unitedballettheatre.org
About United Ballet Theatre
United Ballet Theatre (UBT) is a professional ballet company based in Orlando, Florida, currently in the process of obtaining 501 (c)(3) status. Helmed by Artistic Director Joseph Gatti, UBT aims to preserve their dancers with a unique work schedule and regimen designed to maintain overall health and prolong the length of their careers. UBT will feature world-renowned dancers, teachers, and choreographers and is slated to begin performances in 2018.
About Joseph Gatti
Joseph Gatti is United Ballet Theatre's Artistic Director. He was formerly a Principal Dancer with the Cincinnati Ballet and Corella Ballet, and First Soloist with Boston Ballet. He was born in Warwick, New York and raised in Orlando, Florida, where he began dancing at the Orlando Ballet School and continued his training with Vadim Fedotov and Irina Depler. Joseph danced at Orlando Ballet as an apprentice from 2001-2003, under the direction of Fernando Bujones. Joseph was nominated as Best Male Dancer for the 2006 Benois de la Danse in Moscow, Russia. That same year, he became a bronze medalist at the USA International Ballet Competition and a silver medalist at the Seoul International Ballet Competition in Korea. He was also chosen to be featured in a video entitled "The Male Ballet Dancer" presented by master teacher Finis Jhung. In 2007, Joseph was coached by Magaly Suarez for the first World Ballet Competition in Orlando, Florida, where he received the gold medal. Mr. Gatti also received the bronze medal at the 2010 Istanbul International Ballet Competition. In 2013, Joseph received the Mr. Virtuosity Award at the Dance Open Ballet Festival in St. Petersburg, Russia. In 2014, he also received the "Best Pas De Deux" award at the Dance Open Festival in St. Petersburg.
Powered by WPeMatico