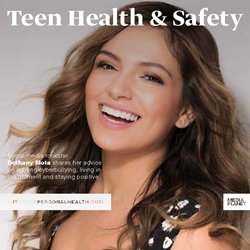 From a rise in teenage anxiety and depression, to safety behind the wheel, early intervention is crucial for these teens' survival.
NEW YORK December 29, 2017
Mediaplanet announces the launch of "Teen Health & Safety", a campaign that will shine a light on some of the most critical issues affecting our teens nationwide, and serve as a "go-to guide" to help parents sit down with their teens during the holidays and foster effective conversations that will hopefully lead to successful futures and healthy lifestyles.
Parents nationwide are in a panic over the health and wellbeing of their teenagers. From a rise in teenage anxiety and depression, to safety behind the wheel, early intervention is crucial for these teens' survival. This campaign engages readers and offers insight on how to uniquely support them as they navigate this amazing, yet stressful period of growth.
The print component of "Teen Health & Safety" is distributed within today's edition of USA Today in New York, Los Angeles, San Francisco, Denver and Washington DC/Baltimore markets, with a circulation of approximately 250,000 copies and an estimated readership of 750,000. Thanks to countless editorial partners and influencers, the campaign will also be distributed at a number of events and conferences throughout 2018, including the Healthy Teen Network Annual conference, American School Counselor of The Year Gala, ADAA Annual Conference and many more, reaching not only parents, but others invested in teen health, such as teachers, healthcare professionals and school counselors! The digital component is distributed nationally, through a vast social media strategy, and across a network of top news sites and partner outlets. To explore the digital version of the campaign, click here.
Spearheading the issue, YouTube personality Bethany Mota speaks on her story of resilience and growth after her experience of being bullied as a teen, and how she embraced her platform to empower viewers with videos on beauty, fashion, self-love and positivity.
Mota reveals that her career as a YouTuber has given her a chance to influence other teens to avoid negativity online, and step away from 24/7 use of social media, which is a common concern for parents nowadays. "You start to feel like a slave because suddenly you're doing things for the sake of how it makes you look online, and you're not really enjoying the moment…sometimes you might not get a beautiful moment on camera, but you experienced it. Let that be enough."
Among other tips for parents, given that car crashes are the number one cause of death amongst teens in the United States, the campaign offers an updated perspective on teen driver safety and urges parents to set better examples behind the wheel, especially when it comes to driving distracted and ensuring effective, ongoing driver's ed.
This campaign was made possible with the support of Hum by Verizon, Splitsecnd, Insurance Institute for Highway Safety (IIHS), Virtual Driver Interactive, Lindner Center of HOPE, NorthStar Academy, S.A.D.D, Healthy Teen Network, JED Foundation, Planned Parenthood, Joel Feldman and EndDD, Bailey Wind, National Safety Council, National PTA, Anxiety and Depression Association of America, Partnership for Drug-Free Kids, American School Counselor Association (ASCA), and the National Association of Therapeutic Schools and Programs (NATSAP).
About Mediaplanet
Mediaplanet specializes in the creation of content marketing campaigns covering a variety of industries. We tell meaningful stories that educate our audience and position our clients as solution providers. Our unique ability to pair the right leaders with the right readers, through the right platforms, has made Mediaplanet a global content marketing powerhouse. Our award-winning stories have won the hearts of countless readers while serving as a valuable platform for brands and their missions. Just call us storytellers with a purpose. Please visit http://www.mediaplanet.com for more on who we are and what we do.
Press Contact:
Victoria Borkowski
victoria.borkowski(at)mediaplanet(dot)com
(646) 755-7949
Powered by WPeMatico