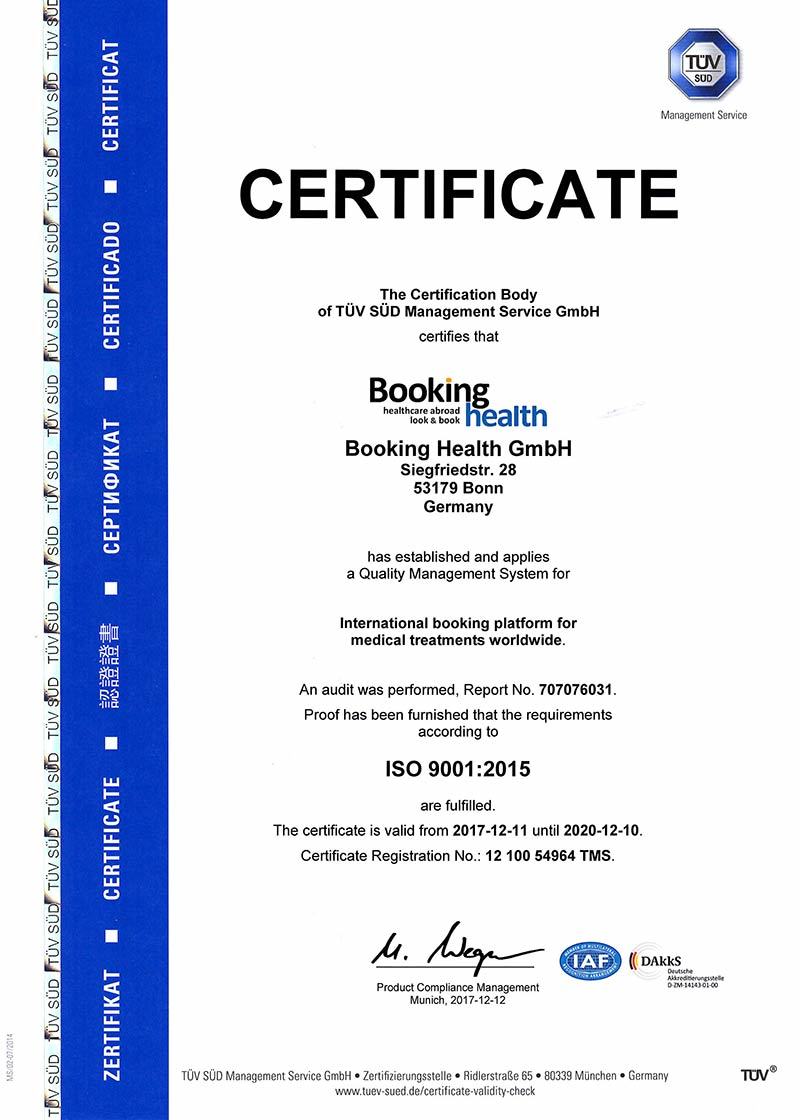 BONN, Germany, January 15, 2018 – Medical tourism company Booking Health GmbH is the first one in the world to obtain an international quality control certificate ISO 9001: 2015 within its industry. The organization operates through the website bookinghealth.com. It allows people to quickly and efficiently select the treatment programs of their interest in literally all countries. They use a progressive approach to treat a wide variety of diseases. When TUV SUD Management Service GmbH auditors evaluated the online activity of the service, they noted the high expertise of the company in all key areas and did not find any aberrations from the accepted norms.
According to the CEO of Booking Health, Elena Sergeeva, the organization has a lot to be proud of and the company deserved to receive the ISO 9001: 2015 certificate in the field of Medical tourism. Auditors assessed the remarkable ability of professionals working in the company to provide for all the needs of patients. Employees in Booking Health consider it their goal to give people the opportunity to find all medical products they are interested in and receive them on the most favorable terms at any time and at any place in the world.
The idea of creating Booking Health GmbH was generated in 2011. In 2012, doctors and medical volunteers had already begun joining the specialized service of medical tourism. A year later, the world's first travel insurance for the medical plan was registered, and in 2014 the company Booking Health GmbH was registered itself. Today, the organization is the largest portal in its industry, where one can get information about more than 700 thousand medical programs within more than 250 clinics. The patients are provided with flawless organization of treatment trips to such countries as Germany, Austria, Israel, Japan, Switzerland, Poland, Hungary, India, Thailand and many others.
Citizens of 75 countries are actively using the site, which is not surprising considering how many problems they avoid when doing so. People do not have to wait several weeks for appointment with the doctor, look for and buy tickets to the city where a suitable clinic is located, find an interpreter in another country and do other time-consuming things. Instead, patients can save their strength and emotional health for more important activities such as getting diagnosis, treatment and rehabilitation. Another important point is all services of the portal are free of charge due to exclusive contracts of Booking Health GmbH with the clinics. It is possible to send a patient to the clinic for treatment within a day, if there is an urgent need for that. All program prices are fixed and insured by German authoritative company.
Source: Booking Health GmbH
Powered by WPeMatico