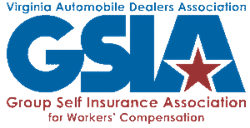 "…We came to the conclusion that CHSI offered more software functionality for the price and more value for the money." –Michael Allen, VADA GSIA
HENDERSON, Nev. November 29, 2017
CHSI Technologies, Inc., a provider of enterprise-class insurance software, is pleased to announce that the Virginia Automobile Dealers Association (VADA) Group Self-Insurance Association (GSIA) is implementing CHSI's Connections™ cloud-based suite of configurable core systems software.
As the second-largest self-insured group (SIG) in Virginia, VADA GSIA provides its members with effective workers' compensation coverage and currently represents more than three-quarters of Virginia's franchised dealers. Instituted in 1981, the organization's plan has grown to include more than $15 million in manual premium.
GSIA's implementation of Connections policy administration, CRM, Claims Management, billing and receivables modules is part of a larger plan to take all six of VADA's operations to the cloud, notes Michael Allen, General Manager of VADA GSIA and CIO of GSIA. "Like a lot of SIGs, we've had a policy administration server in place for more than 25 years, and CHSI's offering of their configurable core systems modules via Microsoft's Azure cloud platform will help us realize our larger plan."
Allen notes that, although workers' compensation benefits are defined by law, SIGs are unique in their requirements to help manage the health and wellbeing of their members. "The [workers' compensation] formula is the formula, so our goal is to become as efficient as possible in order to offer competitive pricing and cutting-edge claims and loss control services. To do that we need to get off the server and move to modern systems that run in the cloud."
VADA's GSIA is also leveraging CHSI Technologies' expertise in developing a customer portal as well as integrating claims management with the organization's third-party administrator. "After reviewing several products, we came to the conclusion that CHSI offered more software functionality for the price and more value for the money," says Allen.
"We see initial value with our active risk prevention team," adds Allen. "The efficiencies made possible with Connections will allow them to replace paper reports, so when they sit with clients during a risk audit they can help visualize our benchmarking (today vs. three years ago) in real time."
"We are pleased to be able to provide cloud-based Connections' configurable software and additional services to help GSIA build on the quality of their highly rated services, and to serve as a platform for their growth," says Jim Leftwich, Founder and CEO of CHSI Technologies.
Once implementation is complete, GSIA is looking forward to providing their clients with added value via real-time access to information: their ability to look at their own claims experience through the portal, pull their own certificates of insurance, and more, says Allen.
About CHSI Technologies Inc.
CHSI Technologies is an award-winning global provider of affordable, core enterprise-class software that is tailor-made to fit the unique needs of small property and casualty and commercial Workers' Comp carriers, municipal risk pools, captives and self-insured groups. Leveraging a flexible, hosted platform, CHSI Connections™ Management System solution enables efficient functioning across a variety of business units and combines policy and underwriting administration, CRM, billing and receivables, workflow, claims integration, broker and policyholder portals into a single cloud-based insurance practice management system. For more info: http://www.chsiconnections.com
About VADA Group Self-Insurance Association
Formed in 1981 by Virginia's franchised new car & truck dealers, VADA GSIA is the second largest groups self-insured associations for workers compensation in Virginia, and one of the 25 largest providers of workers compensation coverage in the Commonwealth. VADA Insurers nearly 80% of Virginia's franchised dealers and more than $1.2 Billion in payroll. VADA GSIA is administered by the Virginia Automobile Dealers Association. For more info: https://vada.com/dealership-resources/vada-group-self-insurance-association/
About the Virginia Automobile Dealers Association
Formed in 1943 by Virginia's franchised new car & truck dealers, the Virginia Automobile Dealers Association represents Virginia's franchised new-car and -truck dealers, with approximately 500 franchised new-car and -truck dealerships. Member dealers hold domestic and import franchises, historically selling approximately one million new & used vehicles annually, and accounting for more than 20% of the Commonwealth's retail sales.
In addition to representing Virginia dealers in their interaction with automobile manufacturers, VADA represents dealers before the Virginia General Assembly, works with regulatory agencies, manages an educational partnership with the Virginia Department of Education, oversees an Educational Foundation, and operates training & service programs to improve dealership business operations, sales, and service practices. For more info: https://vada.com/
Powered by WPeMatico