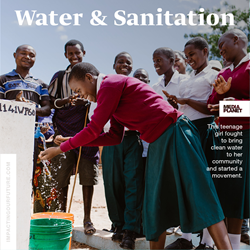 NEW YORK December 29, 2017
Helping to inspire change in access to quality and safe water, Mediaplanet today announces the launch of this December's edition of "Water & Sanitation." This campaign will advocate for the 2.6 billion people globally who don't have access to a safe water source, educate readers on the hidden risks in our resources in the United States and how we are able to support developing communities.
Disease related to water, sanitation and hygiene kills one million people each year. Each day, 700 children die of diarrheal disease due to lack of quality water resources. These deaths are preventable. This campaign dives into the domestic and global issues communities face today and the implications of not having access to water. In the United States we have seen the community of Flint suffer from infrastructure problems that could become a recurring problem in cities across the nation. In Sub-Saharan Africa and Southeast-Asia we have seen the positive impact access to a clean water source can have on a community. One well, filtration system or quality toilet facility could mean improving the health of billions of people and bring the world one step closer to ending poverty.
The print component of "Water & Sanitation" is distributed within today's edition of USA Today in New York, Southern California, Washington D.C./Baltimore and North Central Florida with a circulation of approximately 250,000 copies and an estimated readership of 750,000. The digital component is distributed nationally, through a vast social media strategy, and across a network of top news sites and partner outlets. To explore the digital version of the campaign, click here.
In collaboration with the ONE Campaign, we tell the story of 17-year-old, Eva Tolage, who lives in a small village in Tanzania. Eva is featured on the cover of the print publication and in the inspirational piece, we share her fight to bring clean water to her village. "When we use our power together, our voices become even more powerful and can make change for the better," Eva says. "If we stand up and make our voices heard, we can hold our leaders to account on promises they have made to us."
This campaign was made possible with the support of the ONE Campaign, UNICEF, Water Aid, WSSCC, World Toilet Organization, Pentair, Home Depot, Whirlpool, Pelican Water, ONE DROP, U.S. Water Alliance, Watts Water, Wells of Life, Generosity.org, Toilet Board Coalition, and Almond Board.
About Mediaplanet
Mediaplanet specializes in the creation of content marketing campaigns covering a variety of industries. We tell meaningful stories that educate our audience and position our clients as solution providers. Our unique ability to pair the right leaders with the right readers, through the right platforms, has made Mediaplanet a global content marketing powerhouse. Our award-winning stories have won the hearts of countless readers while serving as a valuable platform for brands and their missions. Just call us storytellers with a purpose. Please visit http://www.mediaplanet.com for more on who we are and what we do.
Press Contact:
Alexandra Flecha-Hirsch
[email protected]
(646) 979-2835
Chelsea Maizel
[email protected]
(646) 979-2832
Powered by WPeMatico