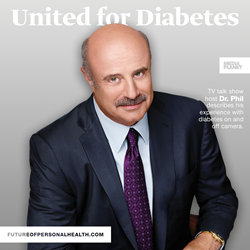 Diabetes remains the 7th leading cause of death in the United States, and is associated with countless additional health complications such as foot amputations, eye diseases, and kidney failure
NEW YORK November 29, 2017
Helping to conclude National Diabetes Awareness Month, Mediaplanet today announces the launch of this November's edition of "United for Diabetes." This campaign will serve as a resource for those who are diabetic, and provide information and insight to those at heightened risks of contracting it, as well as empower our readers to be their own health advocates.
In the U.S., there are 29 million people who are diagnosed with Diabetes, and almost 8 million who have it, but remain undiagnosed. That's almost 10 percent of the entire population. Diabetes remains the 7th leading cause of death in the United States, and is associated with countless additional health complications such as foot amputations, eye diseases, and kidney failure. Under the Affordable Care Act, over 20 percent of healthcare spending was designated for those with diagnosed diabetes, but with the new presidential administration, many of these patients remain unsure of their options. With November being National Diabetes Month, this is the perfect opportunity to shed light on the advances and complications of this disease affecting millions of Americans and their families.
The print component of "United for Diabetes" is distributed within today's edition of USA Today in South Florida, Chicago, New York, New Jersey, Pennsylvania, Dallas, Boston, D.C. and Seattle markets, with a circulation of approximately 250,000 copies and an estimated readership of 750,000. The digital component is featured on Mediaplanet's Health Content Hub – Future of Personal Health and distributed through a vast social media strategy and across a network of top news sites and partner outlets. To explore the digital version of the campaign, click here.
TV star and Type 2 diabetic Dr. Phil is the face of the print publication. Through an exclusive interview on the interior, Dr. Phil explains what it's like to battle this disease both in and out of the limelight. He also discusses the many misconceptions that Type 2 diabetics face and explains that this disease's victims are not necessarily "lazy, slovenly, overweight and undisciplined." He uses his celebrity as a platform to spread awareness because he has the ability to speak to millions. He emphasizes that "an ounce of prevention is worth a pound of cure" and implements that strategy into his daily life in terms of meal planning, exercising and maintaining healthy glucose levels.
This campaign was made possible with the support of the American Diabetes Association, the NFL's Team Tackle, John Hancock Life Insurance, Gold Bond, Ascensia Diabetes Care, Gildan, The Cleveland Clinic, Good Measures, Ideal Protein, Tempramed, Sugar Medical, Diabetes Research Institute Foundation, Institute for Preventative Foot Health, Phil McGraw, Bret Michaels, Gary Hall Jr, Dont'a Hightower, Lorenzo Alexander, Frostee Rucker.
About Mediaplanet
Mediaplanet specializes in the creation of content marketing campaigns covering a variety of industries. We tell meaningful stories that educate our audience and position our clients as solution providers. Our unique ability to pair the right leaders with the right readers, through the right platforms, has made Mediaplanet a global content marketing powerhouse. Our award-winning stories have won the hearts of countless readers while serving as a valuable platform for brands and their missions. Just call us storytellers with a purpose. Please visit http://www.mediaplanet.com for more on who we are and what we do.
Press Contact:
Dana Lenkowsky
[email protected]
(646) 922-1410
Powered by WPeMatico