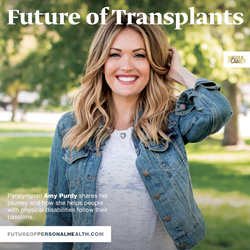 Every day, 22 people die while waiting for a transplant, but even one organ donor can save up to 8 lives.
NEW YORK January 11, 2018
This holiday season, Mediaplanet announces the launch of the December edition of "Future of Transplants." Transplants are the gift of life, saving over 28,000 people in the U.S. every year. This campaign brings patients, both adult and pediatric, together along with transplant professionals, highlighting the top experts in the field and resources available from diagnosis to life after a transplant.
More than 123,000 people in the USA are currently on the waiting list for a lifesaving organ transplant. Every day, 22 people die while waiting for a transplant, but even one organ donor can save up to 8 lives. It is critical to raise awareness and educate the public on transplantation, organ donation and being a living donor. Transplant professionals must not only be informed with the newest advancements in the field, but also be aware of how to best communicate to a patient and family during this emotional time.
The print component of "Future of Transplants" was distributed within USA Today in Chicago, St. Louis, Boston, Atlanta, New York and the Washington DC/Baltimore markets, with a circulation of approximately 250,000 copies and an estimated readership of 750,000. The digital component is distributed nationally, through a vast social media strategy and across a network of top news sites and partner outlets. To explore the digital version of the campaign, click here.
Featured on the cover is Paralympic snowboarder and "Dancing with the Stars" contestant Amy Purdy. When Amy was 19, she contracted a form of bacterial meningitis, causing her to lose both of her legs below the knee and lose both kidneys. She received a successful kidney transplant from her father two years later and has grown into one of the most inspirational athletes of our time, motivating audiences across the nation as an athlete and advocate.
This campaign was made possible with the support of Amy Purdy, Erik Compton, Sean Elliott, Karen Hill, American Society of Transplantation, NATCO: The Organization for Transplant Professionals, International Transplant Nurses Society, American Society for Histocompatibility and Immunogenetics, DKMS, SSM Health, SSM Health-SLU Hospital, SSM Health-Cardinal Glennon Children's Hospital, Immucor and Viracor Eurofins.
About Mediaplanet
Mediaplanet specializes in the creation of content marketing campaigns covering a variety of industries. We tell meaningful stories that educate our audience and position our clients as solution providers. Our unique ability to pair the right leaders with the right readers, through the right platforms, has made Mediaplanet a global content marketing powerhouse. Our award-winning stories have won the hearts of countless readers while serving as a valuable platform for brands and their missions. Just call us storytellers with a purpose. Please visit http://www.mediaplanet.com for more on who we are and what we do.
Press Contact:
Sophia Oramas
sophia.oramas(at)mediaplanet.com
(646) 922-1406
Powered by WPeMatico