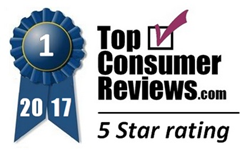 For all of these reasons, SpinLife has our first-place position among retailers of Mobility Scooters, and we're glad to name them as the highest-ranked choice in 2017.
OVERLAND PARK, Kan. December 28, 2017
TopConsumerReviews.com recently gave their best-in-class 5 star rating to SpinLife, a leader among online retailers of Mobility Scooters.
Whether a person is recuperating from knee surgery, or suffers from a long-term condition that makes it difficult to get around, a Mobility Scooter can be a lifesaver. Similar to what can be found with automobiles, the range of products available is vast – from entry-level models that are intended mostly to get someone from one place to another, to high-end designs with all of the bells and whistles that can even handle a little "off-roading." However, when one already has challenges with mobility, shopping for Scooters can be grueling: getting transportation from one store to another, hoping there will be a suitable model in stock, and so on. Many customers appreciate the convenience of shopping for Mobility Scooters online, giving them easy access to the full range of possibilities from the convenience of home, and having their choice delivered directly to their front door.
"SpinLife impressed us with their commitment to customers," according to Brian Dolezal of TopConsumerReviews.com, LLC. "Headquartered in Ohio, this retailer is the largest online, made especially popular by their 110% price match guarantee and no-cost shipping on every scooter and power chair they sell. Not sure what you need? SpinLife has you covered from the start, with numerous articles walking you through the selection process, interactive images to show you precisely what to expect from each type of Mobility Scooter, and top-notch customer service representatives to answer any other questions you have. Plus, SpinLife offers annual scholarships and gift cards for students using any kind of wheelchair. For all of these reasons, SpinLife has our first-place position among retailers of Mobility Scooters, and we're glad to name them as the highest-ranked choice in 2017."
To find out more about SpinLife and other sellers of Mobility Scooters, including reviews and comparison rankings, please visit the Mobility Scooters category of TopConsumerReviews.com at http://www.topconsumerreviews.com/mobility-scooters/.
About SpinLife
SpinLife is the largest direct-to-consumer, North American retailer of durable medical equipment. Since its founding in 1999, the company has built a sound reputation based on exemplary customer service, deep expertise and vast product offerings that include the top brands of manual wheelchairs, electric wheelchairs, electric mobility scooters, walkers, wheelchair and scooter lifts, and lift chairs. In addition SpinLife produces the only major national print catalog in the industry. SpinLife has earned the Gold Seal of Approval from The Joint Commission, the nation's leading accreditation organization for health care companies.
About TopConsumerReviews.com
TopConsumerReviews.com, LLC is a leading provider of independent reviews and rankings of hundreds of consumer products and services. From Mobility Scooters to Blood Pressure and Medical Alert Systems, TopConsumerReviews.com delivers in-depth product evaluations in order to make purchasing decisions easier.
Powered by WPeMatico