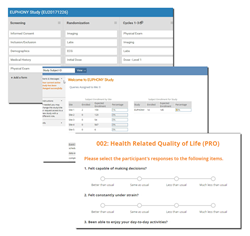 An intuitive study designer, a modern runtime interface, and mobile-friendly forms are just three enhancements of the new OpenClinica
In an era where clinical data management must be easy and safe, OpenClinica achieves these goals with impressive results. – Vicente Fernández, Director of Semicrol S.L.
WALTHAM, Mass. January 11, 2018
Last month, OpenClinica reached its most significant milestone to date in a multiyear effort to "make the complex simple"–and speedier–in the design and conduct of clinical studies. The recent release of their cloud-hosted platform for clinical data management enables researchers to fast-track the transition from clinical study idea to fully-built, regulatory-compliant system for the capture, aggregation, validation, and reporting of high-quality participant data. A webinar introducing the new OpenClinica will be held on 22-January-2018 at 11am GMT-5.
According to the company, ensuring efficiency and ease-of-use, without sacrificing security or data integrity, was the guiding principle in the development of their latest software. "Whether you're a drug developer, a study operations professional, or a patient, the rising costs and growing timelines of clinical trials ought to trouble you," remarks OpenClinica CEO Cal Collins. "That's why we're laser-focused on efficiency at every stage of study lifecycle, from trial design to actionable, real-time metrics on enrollment and data collection. The investment a study team makes in a data management solution might consume just one or two percent of the total project budget, but it bears heavily on the biggest cost drivers, including site retention and monitoring. A data management system that enables more automation, provides an optimal user experience for research coordinators and monitors, and has the intelligence to make operations more adaptive to the clinical facts on the ground, offers the potential to reduce trial costs in amounts ten to twenty times that of the software expense. It can also eliminate many of the delays endemic to subject enrollment, data cleaning, and database lock. That's the solution we set out to create."
OpenClinica's cloud platform relies on Amazon Web Services to ensure performance, scalability, high-availability, compliance, and security for its entire feature set. Most importantly, adds Collins, it delivers a fast and seamless experience for every stakeholder contributing to a study, from the data manager to clinical site staff to a participant completing a questionnaire on their mobile device. "The new OpenClinica enables data managers to set up a study quickly and with minimal training. Elegant yet powerful forms guide the study personnel through data submission, checking and saving it in real-time. Combined with our powerful back-end interfaces, we support acquiring and cleaning data via multiple channels including direct data capture, API-based integrations, and bulk import."
Key features include:
Real-time collaboration with colleagues to build studies using a drag-and-drop interface
Extraordinarily capable, mobile-friendly forms with flexible layouts, mobile rendering, real-time edits checks, skip logic, and autosave of data
An extensive web services API to facilitate integration with third-party systems
On December 4th and 5th, delegates from some of the world's most renowned research institutions, including the World Health Organization, Terumo, and the University of Oxford, gathered for OpenClinica's annual user conference. Responses to the new OpenClinica testified to the software's success in meeting an urgent need for efficiency and interoperability in the conduct of clinical studies. "In an era where clinical data management must be easy and safe, OpenClinica achieves these goals with impressive results," noted conference attendee Vicente Fernández, Director of Semicrol S.L., a consultant to numerous global research groups.
That feedback validates OpenClinica's decision to pursue ease-of-use and improved workflow as the cornerstones of its newest software. "We've been proud to offer a powerful clinical data solution to for eleven years now," said Chief Technology Officer Krikor Krumlian. "In that time, we've made important step-wise improvements to the user experience and workflow–but with the latest release, we've taken a giant leap forward. A study, or at least a prototype, can move from a human brain to a testable, cloud-based environment at incredible speed."
As part of streamlining clinical research, OpenClinica's newest software also supports electronic source data capture. "eSource, or the origination of study data in electronic form, has already arrived in several respects, like integrations with lab and imaging centers, and data submitted directly from study participants on their mobile device," notes OpenClinica's Chief Operating Officer Ben Baumann. "As a company, we've been helping customers move to e-source for several years, and with OC4 it's even easier. We have the components to make paperless trials a reality."
"Therapies succeed when they're safe and effective. Studies succeed when they're high quality, on time and under budget," according to Collins. "OpenClinica wants to be directly responsible for a new era of widespread trial success. The end result will be better therapies and advanced medical knowledge."
OpenClinica will host a webinar on January 22nd that will feature a live demonstration. Those interested should register here.
About OpenClinica, LLC
Based in Waltham, MA, OpenClinica, LLC has enhances the productivity and quality of clinical research through modern, cloud-based software that facilitates the capture and management of study data. The OpenClinica platform has been used in thousands of clinical trials carried out by industry sponsors, CROs, academic centers, and government agencies worldwide. OpenClinica drives innovation by providing open, interoperable software that can easily be adapted and used across diverse research settings. More at https://openclinica.com.
Powered by WPeMatico