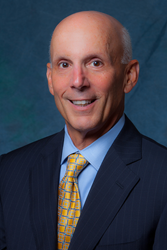 "The Board feels strongly that Dave Ricci is well positioned to lead the hospital." SFMC Board Chair Joseph Youngblood II, Ph.D.
November 27, 2017
The Board of Trustees for St. Francis Medical Center has appointed David Ricci as the hospital's Interim President. Ricci will be responsible for strategy and management at St. Francis Medical Center.
Ricci comes to St. Francis Medical Center with 35 years' experience in the healthcare industry. Prior to joining St. Francis, Ricci served as the Interim President and CEO of Saint Francis Healthcare, Wilmington, DE. Both hospitals are members of Trinity Health.
"After the recent passing of the hospital's Chief Administrative Officer, Vincent Costantino, and while we engage with Cooper University Health Care in our planned merger, we found it imperative to identify a leader with the experience and knowledge of both the healthcare industry as well as the New Jersey and Southeastern Pennsylvania marketplace," notes St. Francis Medical Center Board Chair Joseph Youngblood II, Ph.D. "The Board feels strongly that Dave Ricci is well positioned to lead the hospital during this important period of transition."
Ricci has spent most of his career in the not-for-profit sector. Prior to his appointment at Saint Francis, he served as the President and CEO at Saint Michael's Medical Center in Newark, NJ. He served in that capacity until the hospital's transition to Prime Healthcare.
Prior to joining Saint Michael's, Ricci served for six years as a Senior Director at Alvarez & Marsal, one of the country's leading turnaround and restructuring firms based in New York City. In this role, Ricci served numerous hospitals and health systems across the country, focusing primarily on operational and financial improvement, managed care, medical staff development and alignment, governance, strategy and mergers and acquisitions. This included several senior positions at hospitals in the Philadelphia market including Vice President of Operations at Abington Memorial Hospital; President and CEO of Germantown Hospital and Senior Vice President at Einstein Medical Center.
Throughout his career, Ricci has built cohesive teams, planned and negotiated complex transitions, maintained strong business relationships and consistently delivered results that surpassed expectations.
Ricci is a Fellow of the American College of Healthcare Executives (ACHE). He has served as a board member and Vice Chair of Health Partners, a Philadelphia-based Medicare and Medicaid managed-care company, and has served on several committees of the Hospital and Healthcare Association of Pennsylvania. In 1992, he received the ACHE Regents Award for significant contributions toward achieving Southeastern Pennsylvania's healthcare goals and was a member of the Healthcare Forum's first class of Fellows for Creating Healthier Communities in 1993.
Ricci earned a bachelor's degree from Mount Saint Mary's College and a master's degree in administration from American University.
# # #
About St. Francis Medical Center
St. Francis Medical Center, a member of Trinity Health, is an acute care teaching hospital, is most noted for its Cardiac Surgery program and the first accredited Stroke Center in Mercer County. St. Francis features regional services including the Heart Hospital, a Regional Cancer Center, a Sleep Disorder Center and an extensive Community Outreach Program. St. Francis' partners in care include LIFE St. Francis (Living Independently For Elders) and LifeCare Physicians, PC, which includes Primary Care and Surgery throughout the region, as well as Lourdes Health System (also a part of Trinity Health). St. Francis Medical Center and Lourdes Health System work together closely in serving the South Jersey community.
Powered by WPeMatico