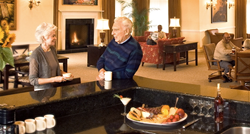 A move to Atlantic Shores means only having to move once, which creates peace of mind.
VIRGINIA BEACH, Va. November 30, 2017
Seaside Health Center at Atlantic Shores was named among the best in the state of Virginia by U.S. News & World Reports, as part of their selection of top care providers for 2017-2018, chosen from among 15,000 skilled nursing centers across the country. Seaside was selected as one of only four facilities in the Tidewater region for this distinction.
This honor comes on the heels of merit for Harbourway at Atlantic Shores, the community's Assisted Living and Memory Care facility, which was selected as among the top in the nation — winning the prestigious 2017 Bronze National Quality Award from the American Healthcare Association/National Center for Assisted Living.
These two award-winning facilities are part of Atlantic Shores Retirement Community's full continuum of healthcare services, offered on its landscaped 100-acre campus, close to Virginia Beach's famed oceanfront.
Offering preventative care, wellness programs, outpatient services, skilled nursing, on-site assisted living and memory care, as well as access to rehabilitation, in-home assisted living, and hospice, Atlantic Shores provides a complete healthcare solution for active seniors in the Virginia Beach, Chesapeake and Norfolk area.
All programs are overseen by a full-time Medical Director, paired with a highly qualified health services team of licensed nurses and exceptional staff recognized for their commitment of care.
A team of experienced EMT's also pair to provide 24/7, one-touch phone dialing to dispatch immediate, on-site medical and security assistance.
According to Atlantic Shores Managing Director of Healthcare Donna Marchant-Roof, "Our practitioners come to know our residents and patients on a personal basis, so they're able to communicate with them, and fellow staff members, to address concerns early before they become problems. This allows for more prompt care when a person is ill, but also creates a focus on keeping people healthy as they move through the chapters of life."
Atlantic Shores Executive Director Eden Jones adds, "In researching retirement living, people want to explore every scenario that could happen in their lifetime, to know what to expect, and that they'll receive the best quality care possible. By being able to transition between levels of care needed at any time, a move to Atlantic Shores means only having to move once, which creates peace of mind."
Wellness as a Healthy Lifestyle
Working to keep residents healthy, vital and connected at all life stages, The Wellness Clinic at Atlantic Shores complements Seaside and Harbourway to offer everything from health and cognition screenings, to diagnosis, treatment and monitoring of acute healthcare problems.
Going beyond the traditional standard, Atlantic Shores is redefining wellness as a proactive approach to staying healthy by creating a balance of fitness in a person's body, mind and spirit. Optimizing wellness results in a total sense of well-being that is distinctly unique for each individual.
Atlantic Shores' whole-person wellness, prevention and early intervention initiatives are designed to support successful aging. Programs focus on the Seven Dimensions of Wellness: Emotional; Environmental; Intellectual; Physical; Social; Spiritual; and Vocational — key areas to maintaining health, mental skills and quality of life.
Atlantic Shores' Medical Director Dr. Daniel McCready shares insight on these areas during ongoing Health and Wellness lectures, with ideas on ways to maximize quantity and quality of life as we age — from good nutrition, strong social networks, power in positivity, engaging in creative pursuits, volunteering, and connecting with our spiritual core.
Dr. McCready shares, "In the U.S., we're living longer than ever before. In fact, those of us who make it to 65 can expect to live an additional 19 years. By developing a game plan involving preventative medicine, fitness and holistic wellness, we can cut the risk of chronic conditions like heart disease, diabetes and some cancers roughly in half."
On their campus, Atlantic Shores residents and staff have embraced wellness through active living from: using walking paths, kayaking on the community's lake, and planting in their Victory Garden to enhance environmental wellness; to working with their fitness director to assess strength and agility to create customized exercise and strength training programs to enhance physical wellness. A resident-led team also works in tandem with Dr. McCready to propose and develop wellness programs specifically of interest to residents.
Making an Impact for a Healthy Future
Going beyond their neighborhood, Atlantic Shores staff also promotes the importance of wellness to the community at large, recently hosting a free public "Smart Talk" series on the 7 Dimensions of Wellness.
Atlantic Shores is also at the forefront of major initiatives designed to improve health care across the country, including being a part of groundbreaking case studies involving early stroke detection, care of stage one pressure ulcers, and an industry quality improvement program to reduce unnecessary hospitalizations and hospital readmissions.
Working together, the professional healthcare team at Atlantic Shores will continue to strive to provide not only cutting edge health and wellness initiatives for today, but also work with affiliated partners to develop future programs to help support healthy, active aging.
For more information on living the Atlantic Shores lifestyle, v isit http://www.atlanticshoresliving.com
Powered by WPeMatico