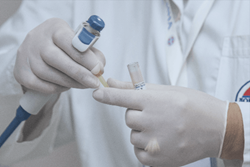 Our strategy is one that creates a potential win-win for patients and their treating physicians by saving time and reducing the cost of new therapies when compared to the traditional drug development cycle…
JUPITER, Fla. November 30, 2017
The award-winning Innovations w/Ed Begley Jr. series will feature KemPharm Inc. in an upcoming episode, airing first quarter 2018 on FOX Business. Check your local listings for more information.
This segment of Innovations will focus on KemPharm's strategy to develop new prodrugs by employing its Ligand Activated Therapy (LAT™) platform technology to discover and develop the potential to improve one or more of the attributes of approved drugs, such as susceptibility to abuse, bioavailability, or even safety.
"Our growth opportunity at KemPharm is to take existing, FDA-approved drugs and – using our prodrug technology – make better product therapies that add new benefits which can become available to patients faster than typical new drug development," said Travis C. Mickle, Ph.D., President and Chief Executive Officer of KemPharm. "We use our unique prodrug process, relying on existing FDA regulatory pathways where possible, to create the potential for therapies with reduced side effects for a more effective treatment in a fraction of the time needed for traditional drug development. Our strategy is one that creates a potential win-win for patients and their treating physicians by saving time and reducing the cost of new therapies when compared to the traditional drug development cycle."
Viewers will learn how the LAT™ platform technology creates prodrugs that are new molecular entities (NME) by chemically attaching one or more molecules, or ligands, to an FDA-approved parent drug. When combined with the parent drug, ligands generate prodrugs designed to have improved drug attributes while maintaining efficacy equivalent to the parent drug.
"KemPharm is a clinical-stage specialty pharmaceutical company engaged in the discovery and development of proprietary prodrugs that are designed to be improved versions of widely prescribed, approved drugs," said Michele Nehls, Senior Producer for the Innovations series. "We look forward to exploring this technology with our viewers."
About KemPharm Inc:
KemPharm is a clinical-stage specialty pharmaceutical company focused on the discovery and development of proprietary prodrugs to treat serious medical conditions through its proprietary LATTM (Ligand Activated Therapy) platform technology. KemPharm utilizes its proprietary LATTM platform technology to generate improved prodrug versions of FDA-approved drugs in the high need areas of ADHD, pain and other central nervous system disorders. KemPharm's co-lead clinical development candidates are KP415 and KP484, both based on a prodrug of methylphenidate, but with differing extended-release profiles for the treatment of ADHD. In addition, the company is advancing Apadaz™, an immediate-release, abuse-deterrent hydrocodone/acetaminophen combination product candidate, and KP201/IR, an acetaminophen-free formulation of the company's immediate release abuse-deterrent hydrocodone product candidate, KP201. For more information visit http://www.kempharm.com.
About Innovations and DMG Productions:
Innovations, hosted by award winning actor Ed Begley, Jr., is an information-based series geared toward educating the public on the latest breakthroughs in all areas of society. Featuring practical solutions and important issues facing consumers and professionals alike, Innovations focuses on cutting-edge advancements in everything from health and wellness to global business, renewable energy, and more.
DMG Productions (responsible for creating the Innovations show) includes personnel specialized in various fields from agriculture to medicine, independent films to regional news and more. Field producers work closely with experts in the field to develop stories. This powerful force enables DMG to consistently produce commercial-free, educational programming that both viewers and networks depend on.
For more information visit http://www.InnovationsTelevision.com or call (866) 496-4065.
Powered by WPeMatico