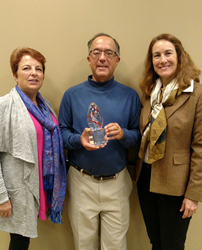 Larry and Becky Stern receive the 2017 Sponsor of the Year award from executive director Martha Hopewell
"It is refreshing to see a dedicated group of people doing the right things for the right reasons, simply, efficiently and effectively.
GROVELAND, Mass. December 31, 2017
Lawrence (Larry) Stern and his wife Rebecca (Becky) were named 2017 Sponsors of the Year by Save One Life, Inc., an international nonprofit dedicated to directly assisting children with bleeding disorders in developing countries. The award recognizes their continued financial support of 40 children with hemophilia since 2010.
Larry is the former chairman and chief executive officer of Talecris Biotherapeutics. In 2010, Larry was recognized as the national winner of Ernst and Young's Entrepreneur of the Year® in the Health Sciences category for his leadership in acquiring, transforming and then developing a global leader in plasma-derived protein therapeutics. In 2011, Talecris was acquired by Grifols, another leading international protein therapeutics company.
Larry and Becky are now focused on giving back to the community and charitable organizations. Larry has served on a wide range of non-profit boards including the national COPD Foundation and the Pittsburgh Jewish Association on Aging. Becky has served on local school boards and community foundations while also forming a non-profit that brings the joy of dance to people with special needs (Yes, You Can Dance!). Together they formed the Lawrence and Rebecca Stern Family Foundation in 2010. Their mission is to support organizations that demonstrate and/or translate best practices in a wide range of health care and well-being–such as evolving personalized medicine, reducing hospital re-admissions, promoting palliative care and demonstrating the benefits of dance on physical and mental well-being.
In choosing to support Save One Life amongst so many deserving organizations, Becky said: "It is refreshing to see a dedicated group of people doing the right things for the right reasons, simply, efficiently and effectively." Larry went on to say: "Save One Life is a best-in-class model that should be benchmarked and emulated by other patient-centered organizations supporting those in need across global borders."
The Stern Family Foundation's support for Save One Life has enabled more than 40 children in India, Pakistan, Nepal, the Philippines and the Dominican Republic to receive direct financial assistance due to hemophilia, a hereditary blood-clotting disorder. Most beneficiaries spend their sponsorship funds on basic needs, educational fees and public transportation to hospitals for the treatment of severe bleeds.
About Save One Life
Save One Life is an international nonprofit that provides direct financial assistance to children who bear the double burden of a bleeding disorder and poverty. Save One Life currently partners with bleeding disorder patient organizations in 13 developing countries and supports more than 1,500 children and youth through its sponsorship, scholarship and micro-enterprise grant programs. The organization also provides funding for bleeding disorder camps. Save One Life was founded in 2001 by author Laureen A. Kelley, parent of a son with hemophilia and president of LA Kelley Communications.
To learn more about Save One Life, visit http://www.saveonelife.net
Powered by WPeMatico