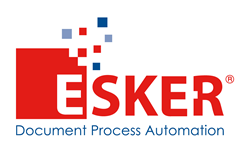 Esker was the only one we talked to that could handle consignment orders — the only one
MIDDLETON, Wis. January 16, 2018
Esker, a worldwide leader in document process automation solutions and pioneer in cloud computing, today announced that LifeNet Health, a non-profit global leader in regenerative medicine and the world's largest provider of allograft surgical solutions, has signed on to automate its order management operations using Esker's Order Processing solution. The solution will be implemented in the cloud and integrate directly with LifeNet Health's SAP® software system.
LifeNet Health's implants are time sensitive, making speed and accuracy when processing customer requests imperative. With Esker, LifeNet Health now has a proven and long-term solution for achieving its primary objective — creating a faster, smarter and more scalable order management operation to support its life-saving mission.
A key factor in LifeNet Health's decision in choosing Esker was the ability to automate consignment orders. With a large portion of its orders being for consignment, this was an important factor, according to Norman Lyon, Director of Global Client Services at LifeNet Health.
"Esker was the only one we talked to that could handle consignment orders — the only one," said Lyon. "Now, instead of performing three separate transactions in SAP, we'll be able to see and do everything on one screen."
About Esker
Esker is a worldwide leader in cloud-based document process automation software. Esker solutions, including the acquisition of the TermSync accounts receivable solution in 2015, help organizations of all sizes to improve efficiencies, accuracy, visibility and costs associated with business processes. Esker provides on-demand and on-premises software to automate accounts payable, order processing, accounts receivable, purchasing and more.
Founded in 1985, Esker operates in North America, Latin America, Europe and Asia Pacific with global headquarters in Lyon, France and U.S. headquarters in Madison, Wisconsin. In 2016, Esker generated 66 million euros in total sales revenue. For more information on Esker and its solutions, visit http://www.esker.com. Follow Esker on Twitter @EskerInc and join the conversation on the Esker blog at blog.esker.com.
Powered by WPeMatico