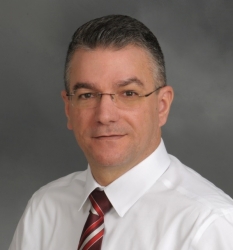 Tampa, FL, January 11, 2018 — Vein911® Vein Treatment Centers announced today that Dr. Raudel Garcia, M.D., RPVI, RPhS has joined their team as an affiliate vein care specialist. In his role as a vein care specialist, Dr. Garcia will provide patients with care for varicose veins, spider veins, leg pain, swelling, restless legs, night cramps, lymphedema, leg wounds, and many other painful or unsightly conditions caused from the effects of venous insufficiency. Dr. Garcia will be using the latest techniques including Endovenous Laser Ablation and Ultrasound Guided Foam Sclerotherapy.
Dr. Garcia is board certified by the American Board of Family Medicine and is a vascular and venous ultrasound expert with advanced certifications as both an RPVI (Registered Physician in Vascular Interpretation) and an RPhS (Registered Phlebology Sonographer). He is a member of the American College of Phlebology, the American Venous Forum, and the American Academy of Family Physicians and is eligible this year to become a Diplomate of the American Board of Venous and Lymphatic Medicine. Dr. Garcia is author of numerous peer-reviewed journal articles in venous and lymphatic medicine. Dr. Garcia previously practiced general surgery in Cuba and is fluent in both English and Spanish.
"Dr. Garcia comes to Vein911 Vein Treatment Centers after completing a competitive and exclusive, academic Venous and Lymphatic Medicine fellowship training program with internationally known experts," said Chris Pittman, M.D., Medical Director and CEO of Vein911® Vein Treatment Centers. "We are excited to be adding a physician with his credentials to our team."
About Vein911® Vein Treatment Centers
Vein911® is a leading provider of both medical and cosmetic vein care including varicose veins, ankle swelling, restless legs, night cramps, venous leg ulcers, and cosmetically disturbing veins of the hands, face and legs. Our world-class vein treatment centers offer state of the art technology within elegant and comfortable surroundings and a family atmosphere. Our non-surgical medical procedures include Endovenous Laser Treatment and Ultrasound-Guided Foam Sclerotherapy, which is the future of vein care available today at Vein911®. Our cosmetic procedures include Visual Sclerotherapy, which is the gold standard treatment for spider veins, and VeinGoghTM, which is an immediately effective treatment for facial veins. Vein911® is the varicose vein and spider vein treatment center of choice for physicians and their patients who are experiencing vein disease. Our vein treatment centers are conveniently located throughout the Tampa Bay area and are led by board-certified vein care specialist physicians. Schedule an appointment today at Vein911.com or call 855-VEIN-911.
Powered by WPeMatico