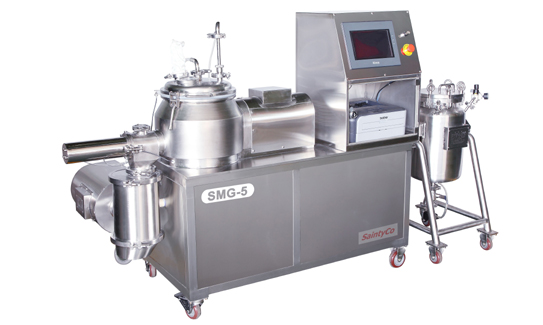 RUI'AN, China, January 16, 2018 – SaintyCo, a global leader in designing and manufacturing pharmaceutical equipment, today published an Ultimate Guide on Wet Granulation Process. This guide covers an in-depth analysis of both the high shear wet granulation process and machines.
It is an all-in-one wet granulation guide with vital information that will help manufacturers and technicians optimize operations in the industry. The guide was authored by SaintyCo technicians and engineers, headed by Mr. Tony Zeng, SaintyCo general manager.
"Throughout 2017, SaintyCo invested in developing an online resource center for pharmaceutical machines on capsulefiller.com, saintyco.com and saintytec.com," said Mr. Tony Zeng. "This is part of the company's effort to provide in-depth knowledge and information on every pharmaceutical machine and we are glad to share a new guide on wet granulation."
SaintyCo's ultimate guide on wet granulation is a 50k-plus word guide, divided into two distinct sections:
Section 1: Wet Granulation Process
It covers seven critical aspects of wet granulation process. They mainly include definition, types/techniques, advantages, disadvantages, applications and factors affecting the wet granulation process.
The section explores all these fundamental issues about wet granulation process.
Section 2: Wet Granulation Machines
This section dwells on the wet granulation machines. Again, it is further divided into eight sections that explore every aspect of high shear granulation machines.
The section covers definition, types/classifications, technical specifications, quality compliance/validation, working principle, parts/components, buying and tips and reasons for installing wet granulation machines.
Each section has relevant images, videos and graphics, giving more information on the wet granulation process or machine. There is also a reference section at the end of the wet granulation guide.
This ultimate guide on wet granulation is tailored for both newbies and professionals in the wet granulation industry – be it the machine manufacturers or end users.
The guide is available on SaintyCo's website for free.
About SaintyCo
SaintyCo researches, designs and manufactures pharmaceutical machines and equipment. For over 15 years, SaintyCo has expanded to over eight factories that deal in capsule filling, blister packing and film coating machines, among others.
The company has published a series of guidelines for capsule filling, tablet press, fluid bed systems, tablet deduster machines and many more. The latest in its publications is the Ultimate Guide on Wet Granulation.
Media Contact:
Contact Person: Tony Zeng (General Manager)
​Email: [email protected]
​Tel: +86-577-66612826
​Websites: http://www.saintyco.com and https://www.saintytec.com
Source: SaintyCo
Powered by WPeMatico