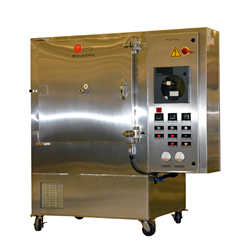 "When designing equipment for the pharmaceutical industry, minimizing the introduction of contaminants to the product load is critical, which is why our stainless steel continuously welded design is an ideal fit for the industry."
NEW COLUMBIA, Pa. November 29, 2017
Thermal Product Solutions, a global manufacturer of thermal-processing equipment, announced the shipment of a granulation dryer to a leading pharmaceutical research company that manufactures drugs and formulations around the world. This granulation dryer will be used for drying water from pharmaceutical granulation.
The maximum temperature rating of this pharmaceutical dryer is 82° C and the work chamber dimensions are 36" W x 36" D x 36" H. The unit is designed to dry up to 25g of pharmaceutical granulation per batch. The dryer body is constructed with 304L stainless steel that is continuously welded with a sealed liner and ¾" radius corners for easy of cleaning. All interconnecting struts are non-continuous from inner to outer walls to keep the exterior as cool as possible. The granulation dryer is designed to maintain a temperature uniformity of ± 2° C at a test temperature of 60° C. The unit includes a fully insulated floor and four casters for easy relocation around the facility.
"When designing equipment for the pharmaceutical industry, minimizing the introduction of contaminants to the product load is critical, which is why our stainless steel continuously welded design is an ideal fit for the industry. In addition to the body construction, the use of 99.97% HEPA filters on the intake and exhaust to reduce contaminant particles." – Denny Mendler, Gruenberg Product Manager
Unique features of this Gruenberg granulation dryer include:
Stainless steel interior and exterior designed for easy cleaning
Four stainless steel loading trays
Door switch
Validation port
Casters for mobility
Intake and exhaust HEPA filters
UL508A labeled control panel
Programmable controller with ethernet capabilities
Powered exhaust to remove 15 Kg of water per batch
Temperature Uniformity of +/-2° C at 60° C.
Powered by WPeMatico