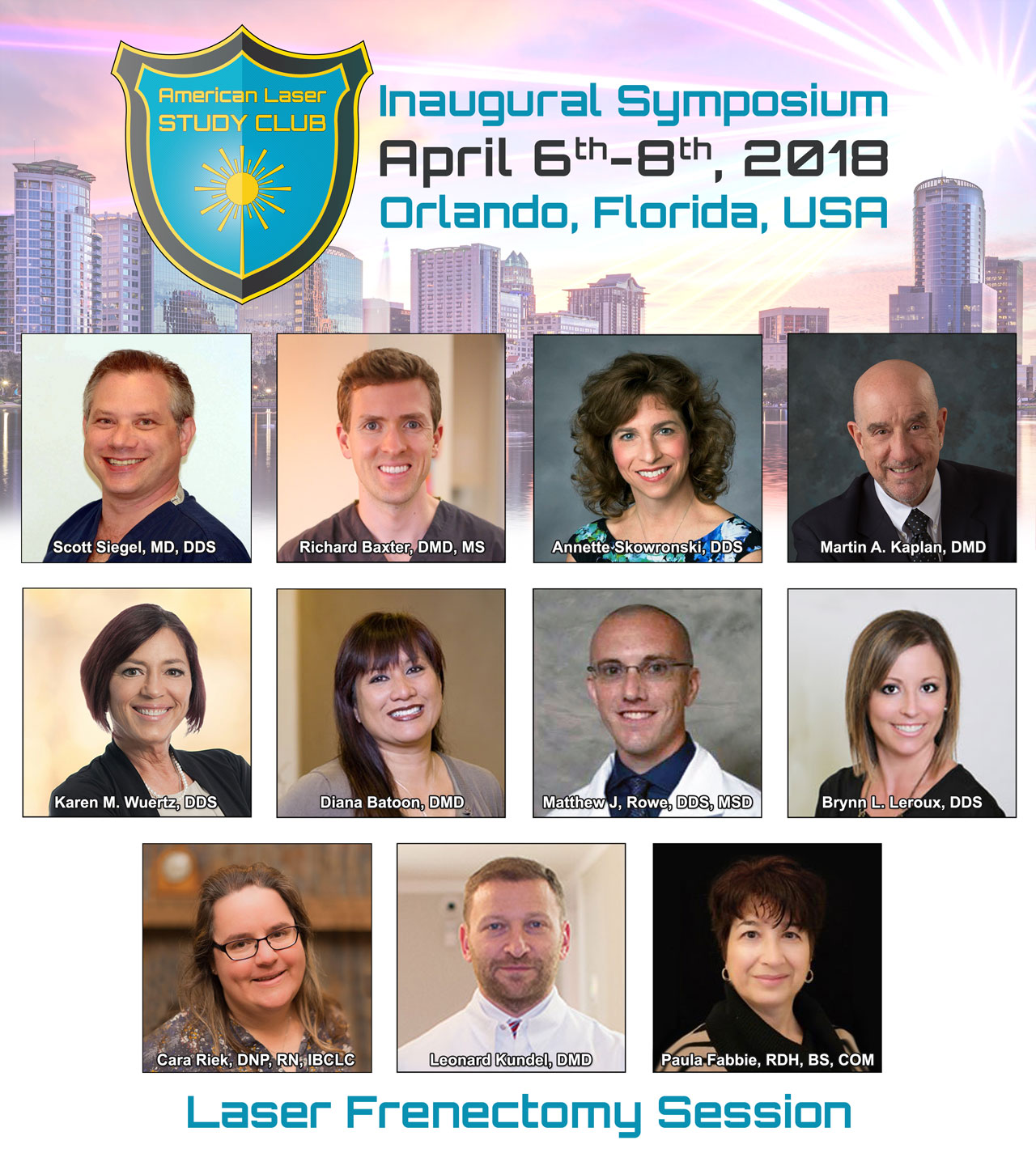 ORLANDO, Fla., December 26, 2017 – The ALSC Inaugural Symposium hosts the most comprehensive laser frenectomy/TOTS program available for pediatric and general dentists. Join us for this rare opportunity to learn from pioneers and leading laser frenectomy providers and earn up to 14 CDE credits. Coming in at a fraction of what you would pay for other laser education programs.
ALSC Inaugural Symposium, April 6–8, 2018, in Orlando, Florida
ADDRESSING
Infant Breastfeeding, Sleep and Airway
DISORDERS
Below are just SOME of the presentations scheduled:
Scott Siegel, MD, DDS
Keynote: Laser frenectomy: 18-year experience with CO2 laser from infants through adults
Richard Baxter, DMD, MS, DABLS
Clinical Pearls and How To Start Performing Laser Frenectomies in Your Office
Annette Skowronski, DDS, DABLS
The Ethical Conundrum: Separating Science and Marketing
Martin A. Kaplan, DMD, DABLS
Laser Frenum Surgery is More than just the Frenum
Karen M. Wuertz, DDS, DABLS
Superpulse 10,600 nm CO2 Laser Revision of Lingual Frenulum Previously Released with a Diode
Diana Batoon, DMD
Sleep Disordered Breathing in the Pediatric Population – Lasers and the Airway
Matthew J. Rowe, DDS, MSD
Laser Frenectomy: Integration of a Tripartite Approach to Collaborative Care
Brynn L. Leroux, DDS
Pediatric Dental Laser Procedures with X-Lase Diode and LightScalpel CO2 Laser
Cara Riek, DNP, RN, IBCLC, FNP-BC, DABLS
– Unbuckling the Buccals: Case studies discussing laser revision of buccal ties from a breastfeeding standpoint
– Research to Practice: Putting together a multi-center study to address laser frenotomy release and long-term breastfeeding rates
Leonard Kundel, DMD
Osteopathically guided release of oral restrictions and return to proper orofacial function
Paula Fabbie, RDH, BS, COM
Success with complex cases: Utilizing CO2 laser and OMT to achieve optimal function and long term results
This is not the complete list of presenters; this is only a preview.
CDE credits will be provided through partnership with ADA CERP CDE Providers
The American Laser Study Club (ALSC) promotes Science-Based Laser Surgery, Dentistry and Safety Education. The ALSC fills the void in current Laser Surgery and Laser Dentistry education (i.e., the physics of laser tissue interaction, such as absorption, scattering, ablation, coagulation and hemostasis, soft and hard tissue ablation, laser safety, etc.) and helps Physicians, Dentists, Veterinarians and Practice Staff Members to excel at efficient and safe application of laser energy in everyday practice. The ALSC also provides help for those preparing for the Certification Exam with The American Board of Laser Surgery (est. 1984).
ALSC Inaugural Symposium, April 6–8, 2018, in Orlando, Florida
*Information, terms and conditions in this communication are subject to change without prior notice.
Source: American Laser Study Club
Powered by WPeMatico