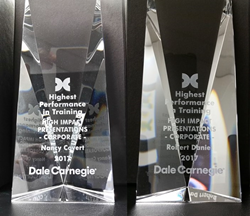 BIRMINGHAM, Ala. January 15, 2018
Nancy Covert, President of Dale Carnegie Training of Central and North Alabama and Robert Daniel, Avocational Trainer, received awards for the highest rated delivery of the Dale Carnegie High Impact Presentations program to corporations. This annual award is presented to trainers who earn the highest customer ratings during the most recently completed fiscal year. Nancy and Robert have been delivering this program to corporations and in public classes since 2006.
The awards were presented on December 7, 2017 during the Dale Carnegie North American Convention in Charleston, South Carolina.
The Dale Carnegie High Impact Presentations program is "as close as you can get to having a personal public speaking coach," graduates have reported. The program is structured so that participants begin presenting from almost the moment the program begins. Participants present seven times over the course of two days, while being videotaped and evaluated. All attendees receive expert, one-on-one coaching at the end of each presentation. The class is small. The environment is supportive. The work is intense. And the results are outstanding. To learn more about this and other programs, please visit https://birmingham.dalecarnegie.com/events/
About Dale Carnegie Training:
At Dale Carnegie, the programs show people how to communicate in a way that draws others in so they can form closer, more rewarding relationships in their personal and professional lives. As they gain greater influence with the people around them, they'll come face to face with more opportunities to make meaningful contributions in the places that matter most.
For over 100 years, Dale Carnegie has helped communities all over the world prosper by improving the personal and financial well-being of the people who live there and the companies that do business there. Today, we continue to cross borders and generations, showing people how to tap into the best parts of themselves to create positive change.
Powered by WPeMatico