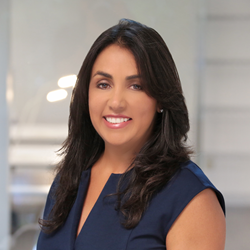 "98th street in Miami Shores is now more than a street; it is place to connect with neighbors, local businesses, host movie nights, festivals and more," said MIAMI Residential President-Elect Ines Hegedus-Garcia, a Miami Shores resident who led the Plaza 98 project
MIAMI January 12, 2018
The MIAMI Association of REALTORS® (MIAMI) is partnering with several entities to host Party in the Plaza from 5-9 p.m. Saturday, Jan. 13 to celebrate Miami Shores' new pedestrian-friendly space, Plaza 98, at 9802 NE 2nd Ave. MIAMI, sponsors and volunteers recently painted 10 multi-colored, intersecting pineapples on Plaza 98's asphalt to create a new Downtown Miami Shores destination for community gatherings. All ages are welcome for Saturday's free event.
MIAMI, which will host a ribbon-cutting during Saturday's event for a bench it is donating to Plaza 98, received more than $300,000 in grant funds from the National Association of REALTORS® (NAR) to improve our Miami communities. In 2017, MIAMI was proud to host the Plaza 98 project as well as 10 other community initiatives throughout Miami-Dade County.
"98th street in Miami Shores is now more than a street; it is place to connect with neighbors, local businesses, host movie nights, festivals and more," said MIAMI Residential President-Elect Ines Hegedus-Garcia, a Miami Shores resident who led the Plaza 98 project. "A group of Miami Shores residents worked with Miami organizations for months to design and create this pedestrian-friendly space. We had one goal: to make Downtown Miami Shores a more vibrant place, something residents have been wanting for years."
Party in the Plaza Schedule
Saturday's Party in the Plaza will have a health focus. It's a new year and a new you. Event schedule:
5 p.m. – Free yoga at sunset
5:30 p.m. – Ribbon-cutting ceremony for a new Plaza 98 bench donated by MIAMI Realtors.
5-9 p.m. – Food, beverages, kids' corner and music
Miami Organizations Unite to Create Plaza 98
MIAMI Realtors partnered with the Village of Miami Shores, Downtown Advisory Committee, Greater Miami Shores Chamber of Commerce, Miami Shores Community Alliance, and others to transform Downtown Miami Shores.
Plaza 98, located on 98 Street on the west side of NE 2nd Avenue between the Miami Theater Center and Miami Shores Auto Repair, had several community workshops where sponsors and volunteers came together to build, set up and ultimately paint the asphalt to bring the Plaza 98 vision to life.
More than 30 volunteers gathered to paint the pineapples on the Plaza 98 asphalt in November. The pineapples are in honor of Miami Shores' history. Miami Shores was home to a pineapple plantation in the early 1900's. Miami Shores architect Joe Clark created the pineapple design.
Plaza 98 is a temporary project. Plaza 98's goal is to have programming for the second Saturday of every month for residents to gather and discover new businesses in Miami Shores. The concept is to reactivate the downtown area. Programming, vendors and themes will change with every event.
In 2017, Plaza 98 hosted a Plaza 98 launch party (Nov. 11) and a Movie Night under the Stars (Dec. 9).
About the MIAMI Association of REALTORS®
The MIAMI Association of REALTORS® was chartered by the National Association of Realtors in 1920 and is celebrating 98 years of service to Realtors, the buying and selling public, and the communities in South Florida. Comprised of six organizations, the Residential Association, the Realtors Commercial Alliance, the Broward Council, the Jupiter Tequesta Hobe Sound (JTHS-MIAMI) Council, the Young Professionals Network (YPN) Council and the award-winning International Council, it represents 46,000 real estate professionals in all aspects of real estate sales, marketing, and brokerage. It is the largest local Realtor association in the U.S., and has official partnerships with 167 international organizations worldwide. MIAMI's official website is http://www.MiamiRealtors.com
###
Powered by WPeMatico