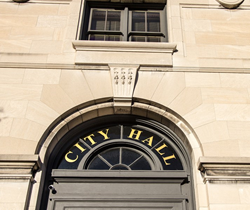 To improve services, local governments can no longer build their own computer infrastructure and operate it inefficiently.
HOBOKEN, N.J. January 12, 2018
A NYC area government technology consultant and MSP surveys the local government IT landscape and the forces prompting civic leaders to move government applications to the cloud in a new article on the eMazzanti Technologies website.
In the informative article, the company explains the cloud in simple terms and discusses how it reduces costs. The need for data security and compliance measures are then discussed. eMazzanti Technologies specializes in providing local government managed IT and cloud services.
"Local governments seek reduced costs, better access to data and easier ways to collaborate," stated Jennifer Mazzanti, CEO of eMazzanti Technologies. "In addition to those benefits, moving applications to the cloud often results in improved services."
Below are a few excerpts from the article, "Moving Local Government Applications to the Cloud."
"Municipalities operate and maintain numerous computerized services such as building permits, taxes, school registration and zoning. Most are seeking reduced costs, improved access to data and enhanced opportunities for collaboration. To achieve those objectives, an increasing number are moving local government applications to the cloud."
How does the cloud reduce costs?
"Shared services reduce costs by spreading them among multiple users. For example: Not everyone hires a CPA to sit in their office all day, every day only to prepare a tax return. They hire a tax expert for a few hundred dollars who will produce the return."
"The shared resources that cloud services providers advertise today are based on the same concept. Their offerings include email, data storage and video conferencing, among others."
"Municipalities experience continual pressure to deliver better services at a low cost. To improve services, they can no longer build their own computer infrastructure and operate it inefficiently. They have strong incentives to consider shared services. It's happening all over the country."
Getting Started
Moving local government applications to the cloud requires careful planning. Fortunately, eMazzanti Technologies offers pre-migration assessments for municipalities looking to do so. Its government IT experts will assess needs and potential benefits to ensure the results civic leaders want to achieve.
The process is like that for any other business. They thoroughly consider needs (safety, snow removal, permitting, legal services and taxes, etc.) and customers (residents) to optimize infrastructure and cloud solutions.
To increase the security of personal data, eMazzanti Technologies also urges citizens to attend local government meetings to ask questions and to make their data security and privacy concerns known.
Related resource information:
Cyber-security for Municipalities: Balancing Risk and Budget
3 Reasons to Update Your Government Tech Today
About eMazzanti Technologies
eMazzanti's team of trained, certified IT experts rapidly deliver government, retail and payment technology, digital marketing services, cloud and mobile solutions, multi-site implementations, 24×7 outsourced network management, remote monitoring and support to increase productivity, data security and revenue growth for clients ranging from law firms to high-end global retailers.
eMazzanti has made the Inc. 5000 list eight years running, is a 2015, 2013 and 2012 Microsoft Partner of the Year, 2016 NJ Business of the Year, 5X WatchGuard Partner of the Year and one of the TOP 200 U.S. Microsoft Partners! Contact: 1-866-362-9926, [email protected] or http://www.emazzanti.net Twitter: @emazzanti Facebook: Facebook.com/emazzantitechnologies.
Powered by WPeMatico