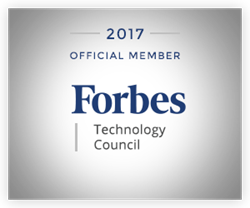 The Forbes Technology Council will be a great platform for me to share ideas, experiences and recommendations for the benefit of businesses worldwide and to interact with the top leaders in the business domain.
New York, NY (PRESS RELEASE JET) October 09, 2017
Ruslan Desyatnikov, CEO of QA Mentor, a multi-awards winning ISO 27001:2013 and ISO 9001:2015 certified leading independent software testing company headquartered in New York, has been accepted into the Forbes Technology Council, an invitation-only community for world-class CIOs, CTOs and technology executives.
Ruslan Desyatnikov joins other hand-selected Forbes Technology Council members to become part of a curated network of successful peers and gain access to a variety of exclusive benefits and resources, including the opportunity to submit thought-leadership articles and short tips on industry-related topics for publishing on Forbes.com.
Forbes Councils combines an innovative, high-touch approach to community management perfected by the team behind Young Entrepreneur Council (YEC) with the extensive resources and global reach of Forbes. As a result, Forbes Council members get access to the people, benefits and expertise they need to grow their businesses — and a dedicated member concierge who acts as an extension of their own team, providing personalized one-on-one support.
"I am excited to join and be a part of Forbes Technology Council community. It shows that what was started back in 2010, with an aim to help organizations from various sectors improve their QA functions and increase maturity level as well as revolutionize QA methodologies and approaches, is getting the recognition and appreciation from the community. The Forbes Technology Council will be a great platform for me to share ideas, experiences and recommendations for the benefit of businesses worldwide and to interact with the top leaders in the business domain. I am pleased to join such a respected and authoritative online technology community," said Ruslan Desyatnikov. "I look forward to contributing to the council and further reinforcing QA Mentor's leadership role in the IT and Quality Assurance & Testing industries," concluded Ruslan Desyatnikov.
QA Mentor uses an effective and unique combination of onshore and offshore resources to keep costs low for clients. Since its inception, the mission of QA Mentor has always been to provide superior quality assurance and software testing services, while treating clients and employees with total professionalism and respect. QA Mentor aims to bring quality to the forefront of software development and become the central figure in Quality Assurance with an active QA website full of engaging discussions and resources.
Scott Gerber, founder of Forbes Councils, says, "We are honored to welcome Ruslan Desyatnikov into the community. Our mission with Forbes Councils is to curate successful professionals from every industry, creating a vetted, social capital-driven network that helps every member make an even greater impact on the business world."
About QA Mentor
Founded in 2010, QA Mentor is a global leading independent software testing company. With 176 global QA resources in 8 different countries offering more than 30 QA Testing Services and covering all time zones, QA Mentor is a global leader in Software Quality Assurance and Testing space. Serving 260 clients from Fortune 500 to start ups in 28 countries, QA Mentor supports applications in 9 different industries. With unique products propositions from a crowdsourcing platform with a pool of 12,000 crowdsourced testers, a strong test management platform, unique and economical services offerings and QA education from e-learning and corporate training, QA Mentor continues its growth, expansion and footprint around the globe.
About Forbes Councils
Forbes partnered with the founders of Young Entrepreneur Council (YEC) to launch Forbes Councils, invitation-only communities for world-class business professionals in a variety of industries. Members, who are hand-selected by each Council's community team, receive personalized introductions to each other based on their specific needs and gain access to a wide range of business benefits and services, including best-in-class concierge teams, personalized connections, peer-to-peer learning, a business services marketplace, and the opportunity to share thought leadership content on Forbes.com.
Powered by WPeMatico