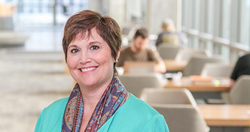 ATLANTA November 27, 2017
Wendy Fritzen Hensel, interim dean of the Georgia State University College of Law since last summer, has been named dean of the college.
Hensel was appointed after a national search that followed the resignation of former dean Steven J. Kaminshine.
Hensel has served in various academic roles at the college since 1999. In addition to her teaching and research duties, she was associate dean for research and faculty development from spring 2012 through summer 2017. Prior to her academic career, she was an associate at Alston & Bird LLP, clerked for Judge Orinda Evans in U.S. District Court for the Northern District of Georgia and worked as an intern with the administrative unit at the U.S. Supreme Court.
"The continued success of the College of Law is essential to many dimensions of our university's strategic plan," said Risa Palm, senior vice president for academic affairs and provost in making the announcement. "President Becker and I are excited to have Wendy serve in this capacity and welcome her to our leadership team. We have great confidence in her ability to lead the college through the coming years."
"It is a true privilege to chart the strategic course of this school over the coming years," Hensel said. "Georgia State is a leader in legal education and has the insight and expertise necessary to prepare our students for a changing profession."
Hensel called the college innovative and entrepreneurial in a way that is unique among law schools, adding the faculty and staff are willing to take risks and try new things to provide the best for its students.
"Georgia State will play a significant role not only in training the next generation of talented lawyers, but in helping the legal profession transition to new ways of practice as artificial intelligence increasingly enters the marketplace," Hensel said. "Our new Legal Analytics Lab reflects our commitment to infusing our curriculum with the latest methodologies and areas of focus to ensure student success."
Georgia State Law has always been and will be a school that prioritizes its students and their success, Hensel said.
"To do that, we must identify where the profession is headed and position ourselves ahead of the changes rather than responding as they arise," she said. "We are willing to take risks and to try new things to constantly up our game and provide the best for our students, faculty and alumni."
Hensel graduated from Michigan State University and earned her juris doctor degree at Harvard Law School. Her research interests include disability, education, employment and tort law.
Powered by WPeMatico