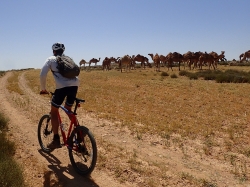 Bangkok, Thailand, November 24, 2017 — SpiceRoads Cycling, one of the world's leading bicycle adventure tour operators, has announced that Jordan and Israel will be the latest additions to a range of itineraries now covering 32 destinations.
"Following the huge success of our 'Jewels of Persia' tour launched in Iran last year, we feel that now is the right time to bring biking to these two exciting adventure destinations," says Daniel Moylan, Managing Director of SpiceRoads Cycling. "By launching a mountain biking trip in Jordan, and a multi country road biking trip around the Dead Sea from Jerusalem to Petra, we feel that these two itineraries showcase the very best that both unique countries have to offer," days Moylan
These tours mark the first launched under the new segments "Road" and "Trails," introduced as part of the rebrand which SpiceRoads Cycling underwent earlier in 2017. "By clearly segmenting our tour types, we can make sure that we cater to the specific needs of different kinds of bikers in today's cycling culture," says Maria Deevoy, Marketing Manager at SpiceRoads Cycling.
The Road Biking tour also marks the 7th and 8th destinations in which SpiceRoads has launched road cycling, having branched out from their road cycling base, Thailand in 2015, the company followed with Vietnam, Cambodia, Sri Lanka, Japan and Malaysia; often combining with multi country tours. "We are proud that SpiceRoads continues to break new ground, offering road cycling opportunities in new emerging destinations every year," says Moylan
Details of SpiceRoads' "Dead Sea Circuit" and "Bike Trails of Jordan" are available to download and book now on the SpiceRoads website: www.spiceroads.com
Powered by WPeMatico